BetGames.TV Software Provider Review – A Pioneer in Live Dealer Games Production
Starting out in 2012, BetGames.TV became famous among live casino service providers for three things – beautiful dealers, exceptional streaming quality, and game types that no one had ever played before! Since then, the company has managed to receive the industry's most coveted licenses, receive wide recognition by both the best new casinos online and other developers, and introduce a number of innovative features that have been welcomed by both the players and the critics. Today, we will present to you BetGames.TV, and also the live dealer services they offer!
The Games – Dedicated Only to Live Casino Titles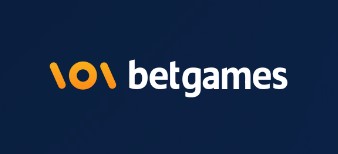 BetGames.TV currently offers 10 live games in total. The majority of the games are of the "lottery variety", but there are also a few card games as well.
Some of the titles here are unique, which can't be found in the live casino roster in any other developer of live dealer iGaming solutions. We have explained most of those brand new games below – check them out.
"Speedy 7" Is Simple and Fun
This live betting game consists of seven betting rounds, and the main objective here is to predict whether the next drawn card will be red or black. Naturally, there will be betting odds that will change with every next drawn card. If a player gets a prediction right in one of the rounds, they will be given the opportunity to collect their winnings; however, if they decide to wager their winnings, they will be looking for a much bigger payout. If a player guesses the seventh round, they will receive an additional prize amount, that will be the same size as the player's initial bet.
"6+ Poker" Is a Fresh Take on Texas Hold'em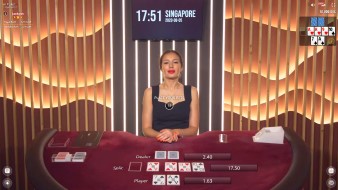 6+ is a type of poker game that allows the player to bet on "win, lose, or draw". At the beginning of the gaming round, the live dealer will place cards on the "dealer, split, and player" fields.
Naturally, the best-formed hand from the ones on the table mat will win; however, it is the additional types of bets a player can make, that will make a real profit!
In fact, the side bets present here, make the game even more interesting, and those are – high card, one pair, two pairs, straight, three of a kind, full house, flush, four of a kind, straight flush, and royal flush.The game is played in several stages, in which the payout odds for the side bets will be updated after every draw stage.
The Wheel Offers near Sports Betting Experience
This game offers a "number-guessing gambling experience" with a twist. The coloured wheel has numbers from one to 18. People can place their bets on either individual numbers, or on a particular numerical margin. Naturally, the highest payouts come from guessing a single number (18:1); however, players can wager on all numbers from 1 to 6, 7 to 12, or 13 to 18 which will pay 3:1; also, they can place a bet on "more than 9.5 or less than 9.5" which will have a payout of 2:1.
The Lucky 5, 6, and 7 Lottery Series
The numbers in the "lucky" description are showing the number of balls that are going to be drawn in general. The specific lottery-type will determine the variety of bets and their payout odds. For example, in "Lucky 5" the dealer will draw five numbered balls into the same container; therefore, the bets here will be the likes of "more odd numbers, more even numbers, a sum of balls will be odd or even, the selected ball will not be dropped or will be dropped, etc. Lucky 5 is considered to be the simplest, most classic lotto version of them all.
"Lucky 5"

The numbers in the "lucky" description are showing the number of balls that are going to be drawn in general. The specific lottery-type will determine the variety of bets and their payout odds. For example, in "Lucky 5" the dealer will draw five numbered balls into the same container; therefore, the bets here will be the likes of "more odd numbers, more even numbers, a sum of balls will be odd or even, the selected ball will not be dropped or will be dropped, etc. Lucky 5 is considered to be the simplest, most classic lotto version of them all.

"Lucky 6"

It is with Lucky 6 when things get a bit more complex – not only there are more balls drawn, but they are also placed within three separate containers, labelled "A, B, and C". Each letter-labelled container is divided into two parts, which feature a fully individual set of balls numbered from 0 to 9; therefore, players will be given the chance to place wagers on betting opportunities such as "selected balls drop in A, B, or C zone", and others.

"Lucky 7"

Out of all lottery variants in BetGames' lobby, perhaps the most highest paying out is Lucky 7. It is a bit similar to Lucky 5; however, the betting opportunities here will be much more, as the number of balls will be 42. Furthermore, while there is a chance to score a 1.14:1 payout by placing a wager on "selected ball will not be dropped with number 1 to 36", a player can score a massive 2,000:1 payout if they guess four selected balls that will be dropped between 1 and 36.
"Dice Duel" – the Simple Card Game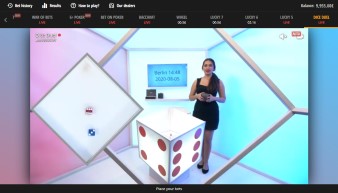 This exceptionally easy-to-play game focuses on betting on a simple throw between two dice – one red, and one blue. There are three main bets – red dice wins, blue dice wins, and draw. Naturally, a dice with a higher value will be considered as the winner and will provide a payout of 2.25:1, while successful draw predictions will payout 5.70:1. On the other hand, there will be three additional betting sections which players can choose their side bets from – Numbers, Odd-Even, and Totals. When combining the total betting opportunities of these three sections, we came to the conclusion that a player will be able to place more than 20 different wagers, only on two dice!
Properly Licensed, Certified and Awarded
BetGames.TV is licensed and regulated by the United Kingdom Gambling Commission (#041022-R-322636-007) and the Government of Curacao. Furthermore, the products and services of the company are certified for safety, fairness, and security, by two of the most renowned technical testing labs in the iGaming industry – NMi and SIQ. In 2019, SBC granted BetGames.TV with the prestigious "Rising Star in Casino Innovation" award. This "highlight" not only provided the company with a well-deserved iGaming industry accolade but also exposed its popularity quite a bit. Additional licenses and certificates have been granted to the company by the jurisdictions of Italy, Bulgaria, and Malta!
Full Platform Support – Running on PC and Mobile
The modern software products of BetGames.TV is fully supported by the two largest mobile operating systems in the world – Android and iOS. The live lobby interface is optimised for use with all modern browsers, which means that all a player will need to have, is a (somewhat) modern-made smartphone or tablet that supports a recently updated browser.
Company History, Business Roadmap, Company Mission
You can tell that BetGames.TV takes its business journey quite seriously, which can be discerned from the fact that their website was launched in the same year the business was founded. The company was conceived by a group of people with more than a decade of experience within the sportsbook and poker iGaming industries. Today, BetGames.TV has grown quite substantially as a developer and provider, and has offices in Lithuania (where the company's HQ are), Estonia, Cyprus, Isle of Man, Netherlands, Australia, and North America.
When the company started initially, they were mainly offering lottery-based games; however, with their advancement in the iGaming industry, they swiftly developed a number of other popular gaming titles. Today, the company continues to provide its customers with a variety of lottery and table games in a live casino environment. BetGames.TV has one mission – to provide fresh content to its customers, that is highly distinguished from anything else on the iGaming market.
Some of the Unique Game Features of BetGames.TV
The first unique feature of BetGame's live dealer platform is the fact that every single one of the games come in one table only. What is interesting is that the live platform is so good, it is capable of handling all players. Another interesting feature is that BetGame.TV offers its online and retail products via cloud-based technology. The interface of the lobby was designed with versatility in mind, which is why, in some of the games, the bet control interface will be located below the video stream window itself.
A custom interface is done not only for posterity purposes but also for functionality. This is best illustrated in the "6+ Poker" live table, where BetGames.TV has best shown how they have combined a "bet slip" interface ( from sportsbook betting), which allows a player to place a number of bets at the same time, exponentially increasing their benefits. The betslip itself will have an "add a random bet" option, which automatically wagers once on one of the available "live dealer markets".
News Outlets and Social Media Portrals
The developer regularly updates the news section on its website, listing all of its most recent business achievements. Although the company doesn't provide quick links to its social media portals, people can freely search for the developer's name on Facebook, Twitter, LinkedIn, and YouTube. BetGames.TV wants to be seen by many people as possible – which is understandable, due to the fact that this is a company that puts some serious emphasis on their visual appeal.
How Does BetGames.TV Compare to Others in the Industry?
Both the marketing strategies and products of BetGames.TV make an exceptional impact on the iGaming industry. What makes this developer and supplier stand out among others, is not only the impeccable quality of their live dealer products, but also their tenacity for swift economic progress. BetGames.TV seems like they are modelling their business in a "franchise" model, which definitely matches that of industry giants such as Evolution Gaming and NetEnt Live. It won't come to us as a surprise if this company passes other renowned businesses and positions itself in the first place!
Partnerships with Other iGaming Casinos, Developers, and Businesses
Some of the best partners of BetGames.TV are huge brands such as Microgaming, iSoftBet, SBTech, the Betsson Group, BetConstruct, GVC, Iforium, Pinnacle, Interwetten, and many others. Even the best new casinos online today looking for an opportunity to incorporate the live dealer lobby into their own gaming rosters. BetGames.TV finds it easy to make business friends, because of the quantity and quality of its services!
The Company Continues to Develop Further
"Fashion-model" dealers, exquisite background studio settings, and impeccable streaming quality – BetGames.TV goes all out with its live dealer lobby services. What many people don't know is that even the upkeep of a live casino studio of an "average" quality, is considered to be very costly – let alone an expensive one. BetGames.TV is a company that invests in its own business, which is why they experience such marketing success. We are looking forward to seeing what new games will be released by the developer in the future!