The Real Realistic Games Review – a Company That Stays Ahead of the iGaming Business
It was in 2002 when Realistic Games entered the industry for the first time. Over the next few years, this UK-established company had launched a number of successful gaming titles and has made itself visible to other competitors. Realising that they need to be more self-sufficient, Realistic started to develop its own distribution framework, which catapulted it to fame only a couple of years after its release.
Today this licensed and critically acclaimed developer continues to provide some of the biggest names in the online casino industry while working in tandem with many significant software developing brands. In this review, we will give you all the latest news about the company and will also take a good look at the games it offers.
There Are a Lot of Games Made by Realistic Games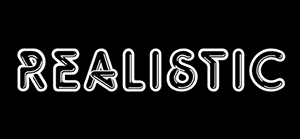 Currently, Realistic has released 90 online casino games in total (with others about to be released in the near future). On the official website of the developer, they are separated into the following sections – Casino, Mini Games, Pull Tabs, Slots: 3 Reels, and Slots: 5 Reels. Technical data for each individual game is made available for visitors of the website; however, we have analysed all the genres and have presented the most essential information about the different games below.
The Slots of Realistic Games Are Regarded as Being Some of the Best in the Industry
Within the portfolio of Realistic Games, there are 46 slots in total; 21 of them are of the "three-reel" variety, while the other 25 are modelled with five reels. Absolutely all slot titles are modelled after original characters and themes, with the exception of a game styled after the brand "Liverpool". Below, we will list the most popular three and five reeled slots developed by Realistic Games, and explain the special features that make them so popular.
"Liverpool Football Club (LFC)"

The visual theme of this 3x5 reel layout slot is based on the very famous club of the same name. In addition to the 20 paylines, this slot offers wild and scatter symbols, a multiplier bonus, and of course – free spins. LFC is an official brand, which means that the license rights to produce it into a slot game have been purchased by Realistic.

"Time is Money"

This is also another slot with a 3x5 reel layout and an interesting "clockwork" design style. This particular game has an RTP rate of 95.45%, 20 pay lines, and features like free spins (up to 48), "clock multipliers", and even a jackpot bonus.

"Win Sprint"

This is a 3x3 reel layout slot that is modelled after the most classic games of the genre. It has a "fruit design", and it offers five pay lines and free spins with a progressive multiplier. Win Sprint has an RTP rate of 95%.

"Super Graphics Super Lucky"

Modelled after an anime-styled Japanese vending machine, this 3x3 layout game is a part of the original "Super Graphics" brand of games by Realistic. It features a three-stage jackpot, a progressive multiplier, and a bonus round that grants free spins.

"Crystal Clear"

Presents players with the opportunity to receive a maximum payout that will be x1,000 times their bets. This 3x5 layout, gem-studded slot, has ten win lines, increasing wilds, and a free spin after every win!

"Fun Size Fireworks"

An exciting 3x3 slot game that has five win lines and some exciting features. In addition to the full 3D design of the game, there is also a bonus round that can be achieved by stacking three reels in a specific order.
The Table Games Are Located in the "Casino" Section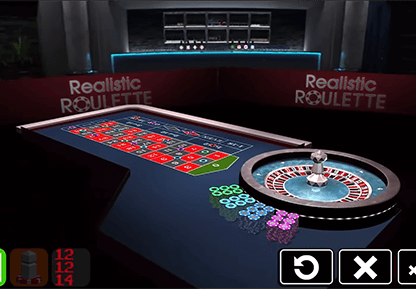 This section offers ten games in total, which include some standalone titles, as well as variants of blackjack, roulette, keno and others. We should mention that in some examples here, Realistic Games has chosen to go all-out when it comes to innovation and design, and have decided to produce some versions of the most commonly known titles on the market, in order to impress everybody – and they do.
The most interesting game here seems to be none other than "Realistic Roulette". It is the newest title in the "casino" section of Realistic, and the number one effect that it achieves is complete immersion. This game features a full 3D roulette table, complete with a virtual casino floor. It allows players to position the viewing angles the way they want to, whether they experience the roulette on a computer or mobile device.
Pull Tabs Are the New "Scratch Cards"
This popular genre of gaming takes its inspiration from physical lottery tickets. While the scratch card genre for online casinos was developed by someone else, the first Pull Tabs for online casino gaming was introduced by none other than Realistic Games themselves! Just like developers borrow visual designs from their own original slots to incorporate them into their scratch card titles, so does Realistic – this is why among the 25 pull tabs you will see names like "Win Sprint", "Super Graphics" and others. There will also be pull tabs that will have their original themes as well.
The principle of playing pull tabs is simple. A player places a wager and draws a card which will contain four covered lines or "tabs", underneath of which will be a combination of symbols. If the three symbols in a line match, then a win will be produced that will correlate to the symbol paytable. While the principle of playing pull tabs is the same, they will differ by offering re-trigger chances, random win multipliers, free bonus rounds, low-value symbol removal, and other interesting features.
The Licenses Held by Realistic Games Are Impeccable
Realistic Games is licensed and regulated by the United Kingdom Gambling Commission, under license number: 3000 and also the Gibraltar Licensing Authority. Both of these administrations are considered to be two of the leading ones in the iGaming industry, and a license from them shows that the developer adheres to all safety, security, and quality standards. The company also has a certificate for compliance issued by the technology testing entity Gaming Laboratories International. Additional information about the serial numbers and types of the licenses can be found on the website under the page "Gaming License & Jurisdiction" located at the very bottom of every page.
Use of Developing Software and Compatibility with Mobile Platforms
Among the many games made by Realistic, we've found out that the software development platforms used, are HTML5, WebGL and Flash. Although all games will be available for desktops and mobile devices such as smartphones and tablets, only some of them will support a large number of languages. While all games run on operating systems such as Windows, Android, or iOS, the company has listed the following browsers as being "officially supported" – Chrome, Firefox, Safari and Edge.
An interesting fact here is that while some older games were developed on Flash, some of them have been reworked in HTML5 so that they can be accessed with both newer and older systems. Naturally, those few titles that are "Flash exclusive" won't be available for mobile play – some of them include games like "American Roulette", "Ultimate Keno", "Roulette European (Mini Games)", and a few others.
A Brief Company History and Upcoming Business Goals
With almost two decades of industry experience, Realistic Games has become one of the fastest-growing developers online. They were one of the very few developers that started using HTML5 as a game developing technology and achieve outstanding results with it.
At the beginning of their journey, Realistic Games distributed its software via third-party providers, but only a few years later decided to "step it up a notch" and developed its own library called "ReGaL", which today has proven to be one of the most successful game aggregation platforms online. This company's mission isn't merely to "chuck-out" titles on a regular basis, but continue to passionately create gaming content that everybody can enjoy.
Innovative Game Features Introduced by This Developer
"Game Changer" is one of the most innovative slot concepts introduced by Realistic Games. It is essentially a "board game" mechanic which requires players to form a special board with box symbols, allowing participants to land on one of three squares – the bonus square, cash multiplier square, and the losing square. To this day, Realistic Games continues to create additional gaming mechanics that will allow players to have new experiences!
Keeping in Touch with the Company's Achievements – The News Section
If you're looking to find out whether the company is about to release a new game, strike a new business deal or be invited in one of the numerous iGaming award ceremonies, you will find it all in the news section. Realistic Games keeps its news section regularly updated, and website visitors will have the option of filtering all the information by "News" and "Press Release". For those who wish to be constantly informed about the company's latest happenings, they can visit the developer's social media accounts in Twitter, Facebook and LinkedIn.
Realistic Games Definitely Stands out among the Rest
In addition to the quality of its products, famous partnerships, and innovative mechanics, Realistic Games is easily distinguished among other developers by making one game genre quite popular – Pull Tabs! In fact, we couldn't find another developer that has "pull tab" games in their own rosters. The successful strategies by which Realistic Games does its business, are also considered as factors that make this Gibraltar-based developer shine among the rest.
Care for the Players – The Company Realises the Issues of Gambling
At the very bottom of the website, Realistic Games features the quick access icons of BeGambleAware and GamCare. Both of these are famous charities that are tasked with helping individuals who experience problems with gambling addiction. Realistic Games stands for the integrity of the online gambling industry, and this is why it promotes safe and responsible gaming.
The Company Is Friends with Some of the Biggest Names out There
In addition to striking a successful deal with GVC group, Realistic Games also branches out within the industry by utilising Microgaming's game distribution network to market its best slots and exclusive releases. The developer has also secured many other business partnerships with some of the most famous online casino brands on the iGaming market such as – Mansion, 888casino, BGO, William Hill, Paddy Power and quite a few others. Other game developers such as Nektan and Hero Gaming are also known to be highly valued business partners of Realistic Games.
In Conclusion – Realistic Games Is Progressing Steadily
This developer seems to employ smart business practices by choosing its partners carefully. It appears that although Realistic Games produces a variety of titles, they not seem pressured by the latest industry trends and create their titles with full dedication and attention to detail. This is precisely why when you play any game by Realistic, it feels like a finished product. We are more than impressed with both the products of this developer and its business policies, and will be looking forward to learning what Realistic Games will have for us next!