Extra Chilli Megaways Slot Review - How Does It Measure Up to Bonanza?
Big Time Gaming released the Extra Chilli Megaways slot in 2018 as a follow up to the enormously popular Bonanza slot.
Built on the Megaways engine, the usual 117649 paylines means that there is always something going on to grab your attention with this slot.
So it is a worthy title to follow on from the iconic Bonanza Megaways and is proving to be a firm favourite in its own right.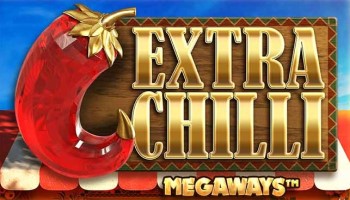 General Info
Title:

Extra Chilli

Developer:

BTG

Paylines:

117649

Reels:

6

Slot RTP:

96.19%
Recommended Extra Chilli Casino
* 18+; T&C's apply, click CLAIM BONUS for details
The Story Behind the Extra Chilli Megaways Slot Game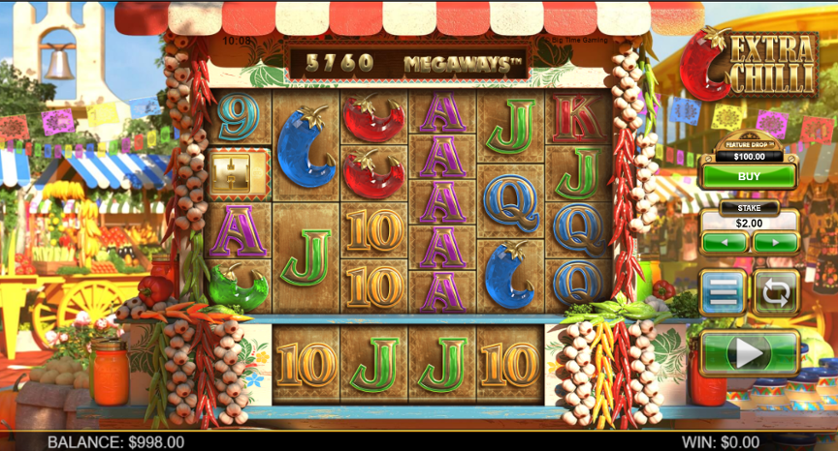 In what is a very clever move by Big Time Gaming, the story behind the Extra Chilli Megaways Slot is a follow on from its predecessor, the Bonanza slot.
Spanish pirate José Cavadoré made his fortune from the gold mine on which the previous slot was based and with that money, travelled to Mexico where he sells chillies from a hand cart in the market.
A background story like this does add to the flavour of the slot and is a typical 'extra step' which Big Time Gaming are become more and more well known for.
The Main Features of the Extra Chilli Megaways Slot Game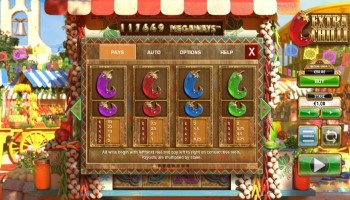 Let's start with the symbols which are made up of the paying card symbols, Nine, Ten, Jack, Queen, King and Ace along with four different coloured chilli symbols, Green, Blue, Red and Purple.
There is also a wild symbol which is represented by three firework rockets a three gold scatter symbols, H, O and T which just in case you haven't worked it out, spells HOT and triggers the bonus feature which we will talk about shortly.
There are six reels in the Extra Chilli Megaways slot machine and as with all Megaways slots, up to 117649 paylines. Just in case you are not familiar with Megaways slots, when a winning payline is formed, the symbols which form the winning payline disappear with new symbols dropping down to replace them.
There is also a row of new symbols for every spin which runs horizontally below the reels and these symbols can also for part of any winning paylines.
The Extra Chilli Megaways Slot Game Bonus
When you get three scatter symbols which spell H.O.T it's time to get excited because you have landed yourself some free spins which due to the Megaways set up, can result in some very nice wins.
To start off, you will receive eight free spins and any if you get any extra H.O.T scatter symbols will give you another four free spins. When the free spins have been triggered there is the option of gambling the free spins you have been awarded up to twenty-four free spins.
The gamble is instigated by spinning the gamble wheel but please be careful because you could end up losing the free spins that you have already been awarded if the gamble goes against you. Once the free spins commence, keep your eye out for a bowl of cherries symbol because they can also result in some added free spins if you land three or four of them.
As with all Megaways slots, the Extra Chilli Megaways slot machine has an unlimited win multiplier feature which begins with a multiplier of one and increases by one with every win during the free spins and there is no limit to how high the multiplier can go. It doesn't take much imagination to realise how lucrative this feature can prove to be.
How To Play the Extra Chilli Megaways Slot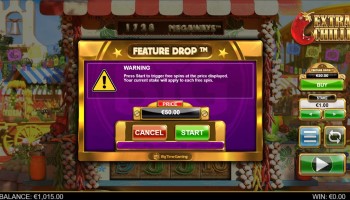 All you need to do to play the Extra Chilli Megaways Slot is choose your stake and start spinning!
The stake ranges from a minimum of 20p to a maximum of £40, you don't have to worry about the number of paylines as with all Megaways slot, they cannot be adjusted.
It would be a good idea to look at the paytable which can be accessed by clicking on the blue button with three horizontal white stripe which can be found directly to the right of where you set your stake.
There is also an autoplay option which is to the left of the start button where you can set up the game to play a specified number of spins for you. The RTP of the Extra Chilli Megaways slot game is 96.19% but to be perfect honest, that figure seems to be a little on the generous side because this slot does seem volatile in that losing runs can stretch out a little.
The Graphics and Soundtrack for the Extra Chilli Megaways Slot Machine
This is a Big Time Gaming production so as you would probably expect, the graphics and the soundtrack are superb. The background to the reels is very 'busy' but that is what you would expect in a market scene.
The soundtrack is also very 'busy' but can be better described as a Mexican style music which is basically nonstop but does suit the theme of the game perfectly.
Our Slot Review Verdict
Big Time Gaming released the Extra Chilli Megaways slot game as a follow up to the Bonanza slot and there is no doubt that this game more than matches up to its predecessor. There always seems to be something going on with the game, mainly due to the Megaways engine but the graphics and backing soundtrack certainly set the scene perfectly.
The free spins bonus is extremely exciting, and the unlimited win multiplier means that the pay-outs can be nothing short of mouth-watering. Our verdict on the Extra Chilli Megaways slot is that it is a game which best new casinos highly recommend because we know that you will enjoy playing the game as much as we did.
FAQ
Yes, the autoplay spins can be set to stop on a specified increase or decrease in your playing balance which means that you can set up the autoplay and not worry about losing more money than you are comfortable with.
The answer to that question depends on the player and basically comes down to which theme you prefer. As for the games themselves, they are both excellent.
The minimum stake size is 20p and the maximum is £40, and the stake can be adjusted between the lower and higher limits. At the bottom left-hand corner of the reels, you will see the stake box with two arrows which can be adjusted to increase or decrease your stake.
Other Casino Slots Online