Dedicated to the Live Dealer Casino Industry – The Ezugi Review
In 2012, Ezugi entered the Internet market with a number of iGaming industry solutions, and a packed portfolio of live dealer games and online casino platform services. The company is reputable, possesses numerous licenses and quality standard certificates, and today is one of the most preferred businesses to work with, according to the best new casinos online. In the following paragraphs, you will have the opportunity to discover this exceptional company, and also learn how they stand out among others in the iGaming industry!
The Games – Entirely Dedicated to Live Dealer Services
You won't see any RNG-based casino titles here, as Ezugi's business is to create and distribute only live dealer solutions. With that in mind, we should mention that Ezugi is involved in both "studio game streaming" as well as "land-based casino streaming"! This not only provides a large gaming variety to the people, but also introduces a good client retention factor for online gambling operators. Currently, Ezugi's live studios provide 21 game types – we have listed them below, and have taken a more in-depth look at the most prominent ones from the entire portfolio.
- Lucky 7
- Jackpot Roulette
- Bet on Teen Patti
- Baccarat No
Commission
- 3 Card Poker
- Teen Patti
- Andar Bahar
- Blackjack
- Unlimited 21
Blackjack: Auto Split
- Blackjack Bet
Behind
- Live Roulette
- Auto Roulette
- ОTT Roulette
- Baccarat
- Knockout Baccarat
- Baccarat Super 6
- Baccarat Dragon
Bonus
- Dragon Tiger
- Casino Hold'em
- Bet On Numbers
- Keno
It should be mentioned that although there are only a few variants of each game, the amount of available tables is definitely going to be a lot more. Ezugi employs more than 180 live dealers in total, which allows the developer's live lobby to offer a number of tables for each individual game version, and also handle a significant number of players at the same time. Since the developer has several studios scattered around the world, it is understandable that some of the games will be streamed from specific studios.
Regular, Auto, and OTT Roulette Variants
The regular version of Ezugi roulette is based on the European standard set of rules, without any deviations. The classic roulette table will offer features such as game history, multiplayer functionality, multi-camera vision, customisable bet limits, multilanguage support, and more. For players that don't want to "deal with dealers" but still wish to experience physical interaction, they can jump on board with the Auto Roulette.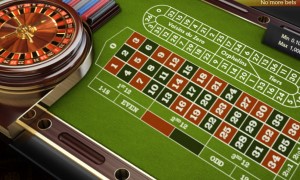 When it comes to the most unique live dealer version of this game, it is OTT (Over the Table) Roulette that stands out. The reason for this, is the fact that it is streamed directly from a number of land-based casinos.
From the Oracle and Portmaso casinos in Malta and the Queenco Hotel and Casino in Cambodia, Ezugi's high definition software will stream live roulette games straight to a player's PC monitor or mobile device screen.
The Most Popular Blackjack Types Are Here
Ezugi doesn't do any severe experiments with its blackjack titles, which becomes evident from its three versions - regular, Unlimited 21, and Bet Behind. While the regular blackjack is quite self-explanatory, it is the other two versions that often pique the interest of seasoned players. For example, Unlimited 21 Blackjack "Auto Split", introduces a number of popular side bets, some of which include "Perfect Pairs", and "21+3", and at least ten others! The highest-paying bet here is called a "21+3 Suited Tips" and it pays 100:1!
"Bet Behind"

Might not be the BJ version with the highest payout rates; however, its unique gameplay mechanic provides players with an extra choice. Essentially, "betting behind" means to place a wager on another person's hand, and play. Some of the best new casinos online are looking for the live dealer services of gaming software developers who offer "bet behind" options, as it gives beginner players the chance to place a wager on the gaming abilities of more capable players. A singe Blackjack Bet Behind table will be able to accommodate seven players at the same time; sitting participants will also be permitted to place bet behind bets as well.
Baccarat Titles – Many Betting Options
If we are not to include "Dragon Tiger", the Baccarat games come in three varieties – Classic, Knockout, Super 6, and Dragon Bonus. A notable difference between the Classic version and the "Knockout" one, is the number of bet options players can explore in the latter. In addition to the three main bets (player, banker, tie), players will be given a choice to wager on some of the six available "winning total" side bets – "1,2,3 or4", "5 or 6", 7, 8, 9, and "natural win player or banker". The highest winnings can be obtained from the "1,2,3 or 4" bet, as its payout odds are 7:1!
Super 6 Baccarat, on the other hand, doesn't have that many betting options; however, the "Super 6" bet has payout odds of 12:1. In order for a player to collect, they will need to place a "banker bet", and hope that the banker wins with a total amount of 6. Those online casino operators that are looking for a "high payout" Baccarat version can incorporate Ezugi's "Dragon Bonus". This game type offers several side bet options, among which is the "Non-Natural Win by 9 Points" which has a payout of 30:1!
Licenses and Legal Certifications
Ezugi possesses jurisdictional licenses issued by the Government of Curacao and the Malta Gaming Authority. Furthermore, their live dealer games, as well as all other iGaming software products, have been audited and tested by two renowned TST (echnical System Testing) laboratories – iTechLabs, and SABS (South African Bureau of Standards). Both service providers have verified and certified Ezugi's products and services to adhere to the attest industry standards for fairness and security.
Mobile Device Functionality and Additional Platform Support
Because the company utilises both the Flash and HTML5 software development platforms, Ezugi's games will be supported by mobile operating systems such as iOS and Android. The same can be said about the computer-based operating systems macOS and Windows; however, there is a bit of a drawback here. The titles Knockout Baccarat and Keno, will work only on desktop systems that can run the "Flash version" of the gaming title. Operators and player's needn't worry, because Ezugi is constantly modernising their business infrastructure, and it won't be long before the developer's entire portfolio is made to work on devices that fully rely on HTML5.
Interesting Company History and Business Mission
In standard fashion for iGaming software developers, Ezugi launched its website a year after the company was founded – in 2013. It didn't take them long to gain the interest of both the best new casinos online, and other participants in the iGaming industry. Today, the company employs approximately 200 professionals, spread over ten offices in the following locations – Latvia, Belgium, Romania, Bulgaria, Israel, Malta, Spain, London, and Cambodia.
As a company that strives for excellence, Ezugi has stated that their mission is to more or less "shock" the online and offline gambling industry, by creating the best live casino solutions that have ever existed. The business officially states that they want to create new standards for live dealer gaming quality, which is why they are so determined in their work. This kind of "competition-ready" approach has not only earned the admiration of other companies but has also created quite a few successful business partnerships.
Specific Facts about the Ezugi's Gaming Software
This developer is one of the few ones online that offer "custom live dealer game creation" for their clients; however, that's not the only unique thing about the company. The global game distribution network of the company allows all of Ezugi's games to be offered under "the same roof" although they are hosted in different parts of the world. We can't miss mentioning the superior stream quality of every single table, making this developer a very serious "player" in the iGaming industry.

Official News and Online Information Outlets
Ezugi keeps the industry informed about their latest achievements, through the press release section on their official website. Although the company doesn't post regularly there, Ezugi has official social media profiles on Facebook, LinkedIn, YouTube, Twitter, and even Instagram. In this digital age, the best way to get the latest news on this developer is to scour their different online social profiles.
How Does Ezugi Compare to Others in the Industry?
For a company with less than a decade of professional experience, it is remarkable to witness such incredible growth. Ezugi is considered to be one of the leading providers of live casino gaming solutions in the iGaming industry, especially in Europe. Perhaps the only thing that is missing from Ezugi that would put them in the same place with the biggest iGaming companies on the planet is a good roster of RNG games. Although this developer is still considered to be a leading business today, they still have a chance to rise up further than the rest, by expanding their gaming portfolio!
Partnerships with Casinos and Other Companies
Some of the iGaming brands that have partnered up with Ezugi are Golden Palace, Golden Nugget, EveryMatrix, 1xBet, Blue Ocean Gaming, LeoVegas, GVC Holdings, and quite a few others. A huge reason for Ezugi's success as a business on the iGaming market is the fact that they are looking for business partners that do different things – this is why the developer continues to sign with other developing companies, aggregators, online casino brands, etc.
Ezugi Continues to Develop Live Dealer Products and Services
The company doesn't merely deliver a "ready package" of live dealer products for its clients. They also offer study courses for live dealers, as well as fully customisable gaming solutions that can be incorporated into a variety of platforms. Meanwhile, the company continues to develop additional live dealer gaming genres, that are bound to become the next big thing among the best new casinos online!