SA Gaming Review - Progressive Creator of iGaming Solutions in Europe
SA Gaming (SAG) is an iGaming product developer and provider that was established in 2009. Situated in the city of Manila in the Philippines, the company managed to become one of the leading providers of live dealer games for the iGaming markets in Thailand, the Philippines, Mainland China, Japan, and other countries in Asia. What makes SA Gaming stand out from the many live dealer service providers in Asia, is the developer's international recognition by the industry, and the quality of their software. Today, we learn more about SA Gaming!
The Games – Instant and Live Dealer Titles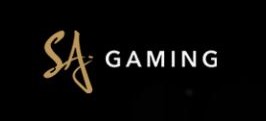 There are approximately 60 games if we are to count the separate live dealer categories as well. It should be noted that the games offered under the SA Gaming brand, have been developed and produced by the company's proprietary designer studio SimplePlay. When it comes to "instant play", the company banks heavily on the production of slots, with a single exception that comes in the face of a game from the popular "fishing" genre. All remaining games here, are of the live dealer variety.
The Slots of SA Gaming Are Unique
SA Gaming definitely love their 5x3 reel pattern design, because most of their titles have it. Although this kind of reel pattern does seem like a standard, SA Gaming has commissioned SimplePlay to introduce variable paylines and bonus features, which make the slots themselves different, and interesting to play. What should be noted is that most of the slots' themes are designed with actual photographs of models, achieving photorealistic design and a minor gaming "storyline". We have taken some of the best slot examples of SA Gaming, and have analysed them further below.
"Red Dragon"

This is a slot game with 30 adjustable pay lines, and a classic 5x3 reel layout. The scatter symbols in this dragon-themed slot will grant free spins, while the wild symbols will substitute all others (except for the scatter symbol). During "free spins mode", scatter symbols will not appear; instead, there will be two different types of wilds that can grant an "unlimited spins mode", and a winning multiplier that can reach up to x8.

"Volley Beauties"

Another 5x3 patterned game, this beach-raunchy-volleyball slot provides 243 winning ways, and three types of jackpots – mini, minor, and major! There are scatters, wild symbols and a free spins feature that comes with a winning multiplier of x2. Lucky players will get to benefit from a "super free spins" feature that will grant additional spins, and an even higher win multiplier (x5).

"Zombie Hunter"

Sporting 30 adjustable pay lines and the ever-present 5x3 reel layout, Zombie Hunter is a slot that isn't so strangely reminiscent of a zombie brand called - "Resident Evil". In addition to the substituting wild symbol, there are also scatter, free game symbols, and a bonus symbol. While the scatter symbols will grant additional spins, it is when all three symbols are landed when the game unlocks an "extra reel wild feature", which can expand up to three reels, making them fully wild. This effect can occur only during free spins mode. Another bonus feature will give lucky players a prize that can go up to x150 times their bet!

"World Cup Fever"

This is another photorealistic slot modelled after the great game of soccer. Sexy girl icons will cycle around the reels in a 5x4 pattern, offering 1,024 symbol winning ways. Wild symbols provide multipliers that can reach up to x3, and landing five scatter symbols can result in a x20 multiplied bet win. Furthermore, any successful scatter combinations will also grant up to 20 free spins.

"Bomber Squad"

One of the most exceptionally designed slots in SA Gaming's portfolio, this "cops and robbers" 5x4 game not only offers special symbols and free spins but also has the chance to grant respins. Once in FS mode, a player may have a chance to engage the "free game feature", which offers additional free spins and a set of "wild win multipliers".
The Live Dealer Titles of SA Gaming
The live casino games portfolio of SA Gaming includes the following categories: Baccarat, Moneywheel, "Cow Cow" Baccarat, Dragon Tiger, Fan Tan, Roulette, Sic Bo, and Blackjack. The number of tables for each gaming section will depend largely on the popularity of the game; however, in almost all cases, the category with the most available tables at all times will be Baccarat. Although most of the live dealer games here are far too popular to require any special explanation, we have taken a more detailed look at some of the speciality titles in the lobby.
Money Wheel – The Game Show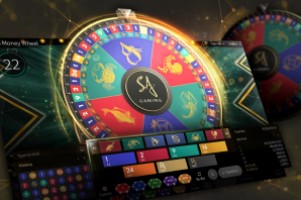 Simple and fun to play, Money Wheel is perhaps the most successful online casino game show available on the Asian iGaming market. Players can place their bets on a colour, number, animal or in any other combination. The wheel is spun, and If the "flapper" stops on the field predicted by the player, they get a money prize, the amount of which depends on that particular field's payout odds. The maximum payout odds here, are 50:1.
Since the wheel game is one of the most preferred game by the players, SA Gaming has employed 35 different female dealers, to make sure that the wheel always has a fresh face that can keep the fun going!
The "Cow Cow" Baccarat Is Suspenseful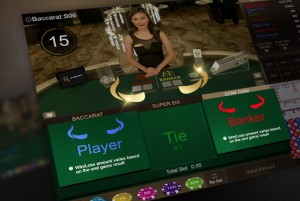 Instead of revealing the cards right away as they are placed on the gaming mat, the dealer will hold off for a few moments to build additional suspense – but that is not what makes this version of Baccarat special. While the "tie bet" has fixed odds of 8:1, the "player and banker" betting options won't have a fixed payout rate.
In fact, the win amount will depend on the final score of each round; however, should a player lose a bet, their loss will also depend on how the round will be resolved.
Fan Tan – A Native Asian Live Dealer Game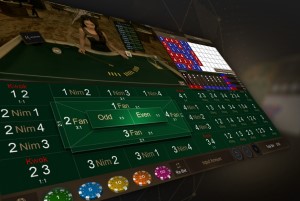 Considered to be among the most famous live dealer table games in mainland China, Fan Tan is an interesting and simple game of predictions, where players wager money on trying to guess one of the four numbers – one, two, three, or four. The dealer would draw a random number of beads from a pile, and then separate them into groups of four – the last beads that will remain, will determine the winning number.
"Evens and Odds" will pay 1:1, while guessing the right number will have a 3:1 payout. Depending on the table, players will be able to make a number of other side bets.
SA Gaming Licenses, Certificates and Awards
As a renowned Asian gaming provider, the company is licensed by PAGCOR (Philippine Amusement and Gaming Corporation). Furthermore, their games and live studio have been audited, tested, and certified for compliance with the latest industry standards by two of the most popular testing agencies in the iGaming world – BMM Test Labs, and Gaming Labs International (GLI). What is most impressive is that throughout the last few years, SAG has been awarded first place in a number of iGaming celebration events. In G2A Asia, Asia Gaming Awards, and GA, the developer took the first-place trophies in several categories, including "Best Hot Product", "Best Online Casino Solution", and "Best Live Casino".
SA Gaming Mobile Platform Support – Compatibility and Applications
Like a celebrated developer and distributor of online live casino products, it is understandable why SAG's games are supported by all mobile devices running on iOS and Android. This is possible, due to the fact that the company developing almost all of its gaming solutions on the platform HTML5 (some were developed on Flash), which is renowned for its mobile optimisation characteristics. In order to take it "to the next level", SA Gaming has also developed an "app" that doesn't require downloads or installation! It works by QR code scan, and it offers a full portfolio of games along with HD live streaming capabilities, and a lot more additional features.
Additional Company History and Business Plans
It was in 2014, when the first news about the appearance of an SA Gaming website was circulated online. Lo and behold, in 2015, the developer launched their official website. It was then, when the company started to receive further recognition by both the players and other iGaming companies. It wasn't long before SAG started participating in one successful business partnership after another, thus solidifying its reputation as a successful developer and provider. Today, SA Gaming continue to operate from where they started – Manila, Philippines. The company is known to have approximately 500 employees, which are all participating in the creation of new iGaming products for the company.

The SAG News Section and Information Outlets
Ever since SAG's website was established, they have been thorough about posting every bit of news about their development. Interested readers can reach as far as 2016, and learn everything about the company's business achievements. Perhaps the only downside of the official press release page, is that SA Gaming releases information once a month (on average); however, the company does have social media accounts on LinkedIn, Facebook, Twitter, YouTube, and Youku. There, readers will have a better chance of finding out more about the most recent developments of the company.
How Does SA Gaming Compare to Other Developers in the Industry?
If we are to take into consideration all of the factors that make SA Gaming great, we can definitely see why the company is considered to be one of the best developers and distributors of iGaming solutions in the Asian market. Although the company is regarded as a leading live dealer provider among the best new casinos online in Thailand, Japan, and mainland China, their lack of an RNG gaming portfolio is "taking them down a notch". Regardless of that fact, they continue to remain as a highly popular brand among both players and operators.
Partnerships with Casinos and Other Companies
Some of the partners of the company are brands like Join Games, iSoftBet, Groove Gaming, Evoplay, SoftGamings, Dafabet, HappyLuke, BetConstruct, Arrow's Edge and quite a few others. Another interesting business partnership was formed with the company Vivo Gaming, which allowed SAG to explore further market possibilities, by launching a live dealer studio room in Europe. Today, SA Gaming continues to look for EU companies willing to engage in a mutually beneficial partnership.
Moving up in the iGaming Industry
SA Gaming is definitely riding on its newly re-discovered fame, but it doesn't let it go to waste. They seem to progress beyond their popularity in the Asian market, which has earned them a positive reputation among iGaming companies in other continents. Although the developer doesn't seem to plan on creating any instant (RNG) table games, they are steadily populating their product portfolio with more slots and additional live dealer games. We are more than interested in seeing how SA Gaming will develop further when they start powering up some of the best new casinos online in the UK and Europe!