Genii Review – Original Games that Bring New Casino Experiences
While this Oxford-based software company has more than 15 years of cumulative experience in the iGaming industry, its business website went live in 2014. As a development company that wanted to target every niche in the online casino industry, Genii's mission was not only to produce high-quality casino games but to also introduce viable platform solutions to operators everywhere. This developer is licensed, awarded, and more than driven to uphold its credo of "creating and delivering the most engaging interactive content witnessed by the online casino industry". Today, we find out why online operators line up for a chance to work with Genii.
The Genii Online Casino Games Roster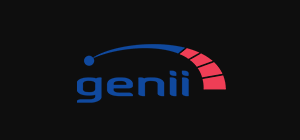 This developer advertises to feature more than 130 games in its portfolio. At the time of making this review, we managed to examine the company's roster and discovered that they actually have 153 titles. There are 91 Video Slots, 15 Classic Slots, 11 Table Games, 30 Video Poker titles and 6 "Other" speciality games. There are no Genii live dealer casino games, nor any news if the company plans on making them.
All Slots Are Original
Both the video and classic slot titles made by Genii are of original design and possess many features. Casino operators have long preferred to use the slots made by Genii because they can be easily integrated, filled with features and look amazing. Below we have listed some of the most popular slots by Genii, as well as some interesting facts about them.
"Seven Chakras"

This spiritual slot has a 3x5 reel grid, a whole lot of colours, and 49 fixed pay lines. Among the special features here, players will be able to benefit from a wild symbol, scatters, free spins, and free spin multipliers. "7 Chakras" is considered by industry experts to be one of the best and most generous slots produced by Genii, with an RTP of 95.88%.

"Zodiac"

Originally themed after the zodiac signs, this is also another 3x5 reel layout slot that offers additional game features. The game has an RTP rate of 95.60% and 20 paylines. This slot gives players the chance to win up to 8 free spins, at a x2 multiplier. The minimum allowed bet is 0.01 currency units, while the maximum – 25 units.

"Sands of Space"

This is an original mash up between Egyptian mythological elements and a sci-fi setting. The result of this combination is a 3x5 slot with an RTP of 96.07%, and 20 fixed paylines. Among the additional features you will discover here are a mini-game, double high wilds, scatters, and prizes collection.

"Cash Vegas"

This classic looking slot also has a reel pattern of 3x5, and an RTP rate of 96.03%. Players can win up to 14 free spins in Cash Vegas, but that's not all. There are wild multipliers, stacked wilds, and even more free spins! This traditionally-looking slot might have only 5 pay lines, but it is still considered to be one of the most generous slots of Genii.

"Tales of Time Travel"

This is an interesting-looking slot. Combining design cues from Victorian England and elements of Steampunk, this slot has a 3x5 layout and 40 fixed paylines. The game has a "reel reversal" feature which coincides with the overall theme of the game. People playing Tales of Time Travel can also win up to 14 free spins, x2! Among the many bonus features, there are also scatters, double wilds, and more.
The Table Games Surprise with Their Quality
Out of the 11 table games listed here, it becomes evident that Genii prefers to make a variety of blackjack variations. In fact, except for two "3 Card Poker" games and one "Punto Banco" variation, the entirety of Genii's table section is populated by blackjack games. Recently, the developer released its own successful take on the "European Roulette" genre as well. Here are some of the most popular table games made and offered by Genii.
"European Roulette"

With an approximated RTP of 97.30%, Genii's roulette game is one of the most better-looking instant play casino games in the industry. Featuring a simplified betting layout and smooth graphics, the roulette game of Genii is one of the newest pieces of software to be desired by online casino operators everywhere.

"Single Deck Blackjack" (SDB)

This card game incorporates everything an online casino player would want - simplicity, good graphics and smooth gameplay. This version of blackjack supports rules such as Split, Double, Surrender, and Insurance. Naturally, should a player has the same score as the dealer, the round will result in a "Push", refunding the player's initial bet. Just like roulette, SDB is fully optimised for mobile use.
The Other Games Aren't That Many
Out of the six "Other" games, there are four variations of Keno and two types of scratch card titles. We should note that only the Keno games are optimised for mobile play. While Android and iOS device users won't be able to enjoy any scratch cards, this might change in the future as Genii is known not only to produce new games but improve its old titles as well.
Licensed and Socially Responsible
Genii's business is licensed and regulated by the United Kingdom Gambling Commission. Additionally, the developer is associated with BeGambleAware – an administration that is tasked to providing free help to individuals that experience addiction challenges with gambling. Genii is one of the few online casino software developers that seems to fully conform to the legal principles set by the leading regulatory bodies in the European Union, which is why it is given to many others as a "white hat" business example.
Mobile Platform Support
One hundred and seven games of the entire Genii roster are compatible with all mobile devices running on Android and iOS. The developer has also made sure that the games run on the outdated "Windows Mobile" operating system. In addition to offering mobile-optimised games, Genii's titles are also app-compatible, meaning that they can be easily incorporated into an application of the operator's choice.
The Use of Developing Software by Genii
When the company first started, they employed the software developing platform Flash for the creation of their gaming software. Only a few years later, the developer made a technological leap to HTML5 – which is what increased the popularity and availability of Genii's products.
Brief Company History and Company Mission
While Genii started out in the UK, today they have offices in Malta and Vietnam as well. It is said that the progress of their business has been brought by the need of introducing a "new dimension to online gaming". The company professes that it only works with the leading available technology, and never leave things unfinished – which is why they manage to produce quality content even to this day.
Additional Online Casino Products
Among the many software solutions created and supplied by Genii, is the Insight CRM platform that allows casino operators to easily identify their players' activity within the casino itself. The company has also made its own Cashier platform, which is part of the complete Casino management suite. The suite itself delivers a full management infrastructure that also has a bonus system and loyalty program functionality.

Specific Game Features of Genii
Genii's gaming software is highly sought after by top online casinos not only because of their functionality but because of their all-round balanced nature. There are just the right amount of features, the design of everything looks neither too complex neither overly simple; furthermore, this developer provides full information on the RTP statistics on all its titles.
Relevant News about the Company Is Somewhat Limited
Although the company has a social media profile on LinkedIn and Instagram, there aren't any recent posts to inform readers about their latest achievements. Regardless of the general lack of information, Genii does have a customer support department that is ready to answer any inquiries.
How Does Genii Compare to Others in the Industry?
Although Genii doesn't offer many online casino games when compared to other developers, it is their complete platform solutions that impress casino operators everywhere. Genii's streamlined approach to managing a casino platform makes it very easy for customers of the developer to achieve what they want – without having to struggle with a difficult learning curve. This user-friendly approach is definitely what sets Genii apart from others in the industry!
Business Partnerships with Casinos and Other Companies
As a relatively new company, we didn't expect that Genii would have that many business partners; however, they do! Not only is the company affiliated with gambling venues such as ShadowBet Casino, Video Slots, LeoVegas and BetConstruct, but it is also allied with fellow software developers and distributors such as EveryMatrix, Interwetten, Tain, and Iforium. Every single one of Genii's business partners has publicly praised their appreciation for the developer's high-quality services and honourable business practices.
In Conclusion – Dedicated to Further Development
Granted, this software developer doesn't seem to be riding the "social media wave" in order to be recognised for the quality of its products and services. Genii doesn't seem to show much concern about anything else besides doing an excellent job and being an efficient business partner – which is beyond commendable. In the world of ever-changing technology, we are looking forward to what new software products Genii will come up with next.