The Full MrSlotty Review and Casino Products Analysis
The iGaming industry saw the launch of MrSlotty in 2013. This Lithuanian software developing company became quite popular online after presenting both players and operators with a variety of slot games that looked excellent and were small in size. In addition to producing online casino games, MrSlotty offers broad language and currency support, back office services, and many other online casino-oriented solutions. In this review, you will learn what MrSlotty offers to operators and players in the iGaming industry.
MrSlotty Offers a Decent Quantity of Games

Although MrSlotty states that it has 40 games in their portfolio, we have discovered that they are actually 50. A second significant factor is that this company makes ONLY slot games. So far, we haven't found any evidence if this software developer is planning on making table games, or even introducing live dealer titles.
All Slots Created by This Developer Look Fantastic
The slots of MrSlotty are incredibly well-made; they feature vibrant, colourful graphics, original themes and art, and many other factors that make them enjoyable to play. Each of them has their own number of pay lines and unique reel layouts. Although the slot games play and look good, we did find a small "drawback" – most of the slots have only two types of special features – free spins and a wild symbol.
While this might not seem as right to some people, the general lack of bonus features is what actually makes the games so light to begin with – which allows for their easier integration in numerous platforms. For now, you can learn more about some of the most popular titles of this developer below.
"Gems Tower"

This slot game features a unique "cross" reel layout and 15 pay lines. Among the additional features present in Gems Tower, there are wilds and other special symbols that can grant 30 free spins.

"Fruits and Diamonds"

This 4x5 reel layout game is one of the few ones of MrSlotty that offers 55 pay lines. The two unique features here are wild symbols and free spins.

"Jungle Treasure"

This jungle-themed slot can give out up to 20 free spins, along with high winnings from the wild symbols. This game offers 35 pay lines, affecting reels over a 3x5 layout.

"Zeus the Thunderer II"

This is a mythology-themed slot game that can give players up to 10 free spins. Just like all other games of MrSlotty, this one also has a wild symbol. Zeus the Thunderer II has a 3x5 reel layout, and 25 pay lines.

"Trendy Skulls"

This is a slot that was clearly modelled after the famous Mexican holiday "Day of the Dead". In Trendy Skulls, players can win up to 10 free spins and gather substantial winnings through the wild symbol. This game also features a 3x5 layout and 25 pay lines.
MrSlotty Is Tested and Certified
This software developer has had its RNG audited, tested and certified for fairness by iTech Labs in six different countries – the United Kingdom, Malta, Italy, Denmark, Gibraltar and the Isle of Man. Additionally, MrSlotty has also been granted a GLI-19 certification from iTech Labs. While there are no formally mentioned licenses, we do think that MrSlotty is licensed in either one shape or form in the countries in which it has had its technology certified for fairness and security.
All of the Software Made by This Developer Is Mobile-Friendly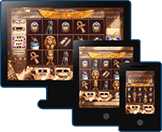 The company's games are fully supported for all types of smartphones and tablets that run on the latest installations of the Android and iOS mobile operating systems. Although the games of MrSlotty are supported for numerous browsers, it is recommended that players use Google Chrome or Mozilla Firefox, as currently they are known to have the best support when it comes to high-quality graphics.
The Technology and Methods Used for Development
One of the first things you will see when you navigate to the featured ribbon on the MrSlotty homepage is that all of its software is developed on HTML5. The use of this platform allows for all casino games to be developed with full support on numerous hardware and software systems. Additionally, all of MrSlotty's games come in 1080p FULL HD, delivering superior visual performance.
The Unique Features of MrSlotty's Software
MrSlotty is one of the very few software developers in the industry that can proudly state that it supports all languages, all currencies and cryptocurrencies! In addition to these significant feats, MrSlotty also delivers special gaming features such as auto spin in turbo mode, free spins, "double-up" and "quadruple up" bonus games.
Follow Social Networks for Additional News on MrSlotty
Whether you wish to learn about the release of a specific title or follow the company's latest achievements, you will be able to do so via MrSlotty's numerous social media accounts. You can follow this developer via LinkedIn, Twitter, Facebook, YouTube and Angel.co. Although this software developing company is highly invested in promoting its products and solutions online, we would have liked to see a dedicated press release page on their website.
Business Position - How MrSlotty Compares to Other Developers in the Industry
This company is one of the few that takes its craft in all directions, providing its products not only for the best online casinos but also for the land-based casinos that use VLTs (Virtual Lottery Terminals). While using a seamless API system for its products isn't exactly news, the fact that MrSlotty has servers in both Europe and Asia is a reason enough to put this developer one level above the others.
This Company Has Successful Partnerships with Casinos and Other Developers
The software products of MrSlotty is featured in more than 300 operator brands! Among the operators that feature MrSlotty's games, are Betsonic, Betcos, 1xBet, ArgoCasino, Betmotion, Breakout, FavBet, Golden Star, Jetbull, Loki Casino, LuckyCasino, mBitcasino, NetBet, Oshi and quite a few others. As stated, the casino management technology created by this developer is highly preferred by many European and Asian companies, such as 1xBet, AGS, AliQuantum Gaming, Asia Live Tech, BetConstruct, betinvest, EveryMatrix, Finnplay, MediaTech Solutions, SGS Universal, Worldmatch, SoftGamings, and many more.

In Conclusion - This Developer Needs to Expand Its Resources Further
There is no doubt that MrSlotty's software products and casino solutions are "top of the line"; however, full information about the company seems to be available only to potential partners of this developer. Apart from the "headlines" and "poster ads" there is little to no information regarding the company on their official website. We are confident that MrSlotty will change that, and will introduce a much larger quantity of information, that would genuinely represent the incredible quality of its products.