Renowned for Its Casino Games and Services – the Rival Powered Review
Rival Powered is a company that produces not only software for the online casino scene, but also a multitude of other products and services meant for iGaming operators everywhere. The company was established in 2005, and since then, it became somewhat of a "standard maker" when it came to creating online slots or table games. This developer is highly engaged with numerous other popular iGaming brands, and to this day is sought after by the best new casinos online. In today's article, we will reveal everything about Rival!
The Games of Rival Include a Little Bit of All

Rival claims to feature more than 250 titles and they are correct – after performing a manual count, our experts concluded that the developer's entire portfolio consists of approximately 300 games. The types of games found here are classified as Video Slots, i-Slots, Table Games, Video Poker, Specialty Games and Classic slots.
The Slots Section Delivers Variety
Currently, there are approximately 270 slots. Although Rival makes the majority of them, some of the gaming titles are provided courtesy of Betsoft! While Betsoft is a company that likes to take some risks with their design and features, Rival banks on the more traditional ways of constructing games, and this is why the majority of its slots are going to be in the following reel layout - 5x3, 3x3, and 3x1. You can take a look at some of the best slot examples by Rival below.
"Hot Hand"

This is one of the newest Rival slots. This 3x3 game has a "devilish" visual theme, five pay lines, simple gameplay, and the most important thing – the possibility of scoring a variety of win multipliers! This fast-paced slot has an RTP rate of 94.78%.

"Cleopatra's Coins"

An Egyptian-based slot with a 5x3 reel layout, Cleopatra's Coins features 50 pay lines. Some of the most notable symbols here, are the "wilds" which turn not only into "sticky wilds", but also trigger re-spins. The slot's RTP rate is 93.89%.

"Mighty Aphrodite"

This is another 5x3 slot, jam-packed with free spin features, which can be re-triggered. The slot also features stacked wilds, for the chance of providing much better rewards in the event of a winning spin. In addition to its RTP of 94.31%, the game offers a random multiplier feature that can go up to x5!

"Fruit Splash"

It offers an underwater fruit adventure with wild symbols, free spins with re-triggers, and sticky wilds. This minimalistic-looking slot has a classic 5x3 reel layout and an RTP of 94.12%.

"Jackpot 5x Wins"

As the name of the slot suggests, there is a jackpot feature here and wild symbols that can provide the player with a multiplier of x5. In addition to having an RTP of 93.83%, Jackpot Wins has a 3x3 layout and only three adjustable pay lines.
The Table Games Are Being Redesigned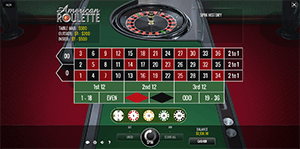 The table games of Rival Powered are currently 12. They include genres such as roulette poker, craps, baccarat and blackjack; however, only three titles of the entire table gaming list are considered to be "modernised". Those are American Roulette, Blackjack and Blackjack Multihand. We should mention that there is a notable difference in graphics quality between the new and old table games, which is due to the different technology used in their development.
Specialty Titles and Video Poker
Under the speciality section players will discover some of the most interesting types of online casino games – scratch cards, keno, virtual sports betting and Sudoku. There are 16 speciality titles in total. On the other hand, there are seven video poker games, all of which are different in terms of rules; however, they are all "single hand" only.
Is Rival Properly Licensed?
Rival states that it has been licensed by a number of worldwide-renowned gaming operators. Although there is no concrete evidence regarding the licensing or certification of the company, it has been mentioned on numerous occasions that this developer works with numerous licensed online casinos. By association, online operators who are licensed are required to work only with tested and validated providers – which leads us to believe that Rival possesses some kind of credentials, rather than not.
Mobile Functionality and Additional Platform Support
Almost the entire gaming portfolio of Rival is compatible with all mobile devices that run on operating systems such as iOS and Android. Some years ago, the company was using an older standard for developing casino games, which is why some of them won't run on modern smartphones and tablets.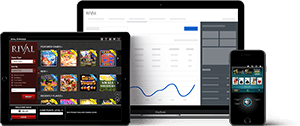 On the upside, however, the company has created its "Rival Mobile" casino suite, which features more than 80 of Rival's best games, all of which are fully optimised for use with any mobile and desktop devices. The interesting thing about Rival's suite is that it can be launched in both an "enhanced" and "lite" modes. The latter removes some visual effects, making the games run better on older, less powerful devices.
The Use of Developing Tools and Software
While the majority of the games of Rival are created with the use of HTML5, it is by far the only development tool used by the company. The games themselves are designed and constructed with applications such as ActionScript 3, JavaScript, PHP, and Adobe Flash. It is an all-known fact that the company utilises the newest development and design technology to re-work and re-release some of its older games that are not compatible with modern platforms.
Company History Facts and Business Philosophy
Although it is said that the company was officially established in 2005, it was in 2006 when Rival entered the iGaming mainstream, by attending the GiGse in that very same year. In addition to creating numerous online casino games, Rival has also developed a variety of full "turnkey" solutions for operators, which also include a full set of platform management instruments. The main goal of the business is to create quality games for players and deliver the support and services needed by their customers. Economically speaking, the company is currently doing better than good.
Notable Game Features of Rival
Rival offers something called "i-Slots™". Essentially those are slot games that feature an original storyline. By advancing through the story, players will experience additional gaming mechanics, game structure changes, and other dynamic events that will keep the game interesting. Another intriguing fact about those "story-driven" slots, is that they have an incorporated save function, which allows a player to stop at any time and continue where they left off when they open the game again. In addition to the memorable designs, some of the most notable game traits are the entertaining bonus games within the majority of Rival's slots.
Additional Company News and Contact Methods
Ever since its establishment, Rival has found it important to regularly publish a press release regarding any of the company's business and development achievements. Interested parties can explore the official news section of Rival and learn much more about the company itself. Potential partners can also use the provided contact form in order to get in touch with Rival's management staff, personally.
How Does Rival Powered Compare to Others in the Industry?
With more than a decade of experience in the iGaming industry, Rival is a company that has helped set some of the online casino gaming standards used today. Granted, they might not be as popular as they were back in the day, but that doesn't impede them from still being a leading force in the game developing industry.
Partnerships with Online Casinos and Other Companies
The quality of Rival's products and services have earned the developer more than 100 business partners, some of which include both casinos and developers. Among those brands, we count SuperNova Casino, Golden Lion Casino, MaChance casino, 1xBet casino, Tom Horn Gaming, Spinomenal, Betsoft and many others. It is more than natural that with so many years of experience, this company would have gathered a large circle of business partners. Even today, Rival explores additional business opportunities.
Rival Powered Continues to Develop as a Business
Many companies that have a similar "journey" in the iGaming industry tend to slow down on what they do; however, Rival doesn't show any signs of stopping. With future plans on creating even more games, this developer is someone who shouldn't be underestimated. We will be looking forward to seeing what they will release into the iGaming world next!