Pioneering the Online Casino Gaming Industry – a Full RealTime Gaming Review
RealTime Gaming, also known as RTG, is considered to be among the first, and best online casino gaming software developers in the world. Established all the way back to 1998, RealTime Gaming not only created some of the first online casino games but also participated in building the iGaming industry what it is today. In this article, we will not only create a historical profile of this software developer but will also find out whether the games that they have made all those years back, still hold up to current market standards, as well as to the needs of the players.
The Games by RTG Are Many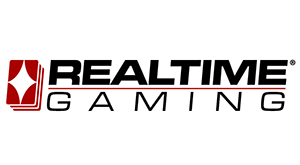 There are approximately 160 games released by RealTime Gaming. As you would have probably guessed, most of them are slots; in fact, there are only seven other titles that deviate from the most common casino games genre in the world. Regardless of the small genre variety, RTG's slots are considered to be instant classics, even among the best new casinos online – which is why many of them feature them in their own gaming rosters. You can find a more detailed description of RealTime Gaming's titles below.
The Slots Offer Variety
In addition to the numerous original designs, RTG's slots also come in a variety of reels, layouts, pay lines, and bonus features. Some slot games are even modelled after licensed franchises, such as "The Big Bopper", and "Ritchie Valens: La Bamba", but the majority of other titles are purely original. We have analysed the most popular slots of RTG right here:
"T-Rex 2"

Featuring a 5x3 reel layout, 25 pay lines, and a "high" volatility factor, this dinosaur-themed slot is one of the newest RTG games. It offers additional free spins, win multipliers, and two random progressive jackpots. If a player gets really lucky, they can even score a win of up to 50,000 times per bet line!

"Storm Lords"

Although this slot game also has a 5x3 reel pattern, it provides its players with 50 pay lines and medium volatility. Among the extra features, there are free spins, re-spins, sticky wilds, and a grand jackpot. The visual design of Storm Lords is heavily affected by the art style of Chinese mythology.

"Shadow Gods"

This is an Egyptian-themed slot that also has the classic 5x3 layout. The game offers 50 pay lines, free spins, respins, and medium volatility. If a player is lucky enough, he will have the chance to win the grand jackpot or a variety of instant prizes!

"Cubee Time Travel Adventure"

This is a one of a kind slot that instead of classic reels, features "appearing symbols", and a very interesting game progression system. Cubee also features free spins, multipliers, and a "progress save" feature which allows players to continue where they left off!

"Heavenly Treasure"

This is one of the most played RTG games, because of its 3,125 winnings ways, and 5x5 layout. This Chinese dragon-designed slot offers many free spins and bonus rounds, but that's not all. The reason why this game features so many winning ways is that they pay "all ways". Meaning that a number of matching symbols won't have to be positioned in a line in order for them to become winning ones.
A Few Table Games
RTG offers only four specific table games – "Suit 'Em Up™ Blackjack", "Tri-Card Poker", "BlackJack" and "European Roulette". While the last three games pretty much represent the classical versions of the genre they describe, it is the Suit 'Em Up that stands out among the most common versions of Blackjack. What makes it different, is that in this particular card game, is that any hands that have been dealt of the same suit will yield better payout odds!

The Specialty Games Are Interesting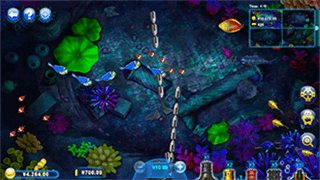 Although also few in number, the speciality games of RTG do not lack variety! The first example of this statement comes with a game called "Fish Catch". Belonging to the "fishing" genre, this multiplayer game offers a lot of range when it comes to bets and additional features. In the beginning, players will choose their initial bet amount, and then begin playing. There are five different "guns" a player can choose to shoot from, every single one of which provides a different multiplier, by also increasing the bet amount for each shot. The game also provides the so-called "mermaid's luck" feature, that gives the player a chance for more multiplied wins.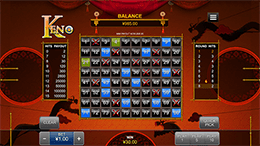 Keno is the other titles within the speciality section that seems to be in its own league. The game features a numbered grid box, from one to 80. The player can select up to 15 different numbers and then hit play. If there are any "hits", the player will be paid the amount reflected in the payout table. The interesting feature of RTG's Keno is that a person can initiate five consecutive picks, or even ten if they like the numbers they've picked!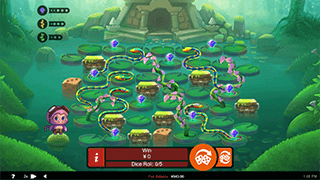 Banana Jones is another interesting betting game, where players will try to get a small monkey character through different fields, collecting a variety of instant prizes and winning multipliers. Essentially, it's like an online gambling version of the game "snakes and ladders", but with a bit more excitement in it. What is interesting is that only five deice rolls can be made. After the allowed dice throws run out, the player will be paid in accordance with the symbols they've managed to collect during the journey of Jones. After that, the game will restart from the beginning. If in those five dice throws Banana Jones manages to reach the end of the maze, they will receive the prize of the "crystal banana".
Licenses and Additional Accreditations
Some time ago, RTG was licensed by the Government of Curacao; however, today there is no information whether the developer has renewed its Curacao eGaming license or not. The general lack of licenses is understandable, as this company began creating online casino software even before the regulatory administrations for online gambling were even established!
Wonderful Custom Mobile Platform and Development Technology
Today, the majority of games made by RealTime Gaming are compatible with the latest versions of Android and iOS. This means that any modern tablet or smartphone will be able to run RTG's games. On the other hand, a good portion of this developer's portfolio will remain inaccessible to mobile users everywhere. The reason for this lays in the technology which was used for the creation of the games in the first place. All games that are ready to be experienced on mobile have been constructed with the use of HTML5 – a superior platform renowned for its compatibility with other systems and applications. Because the company started a long time ago, they initially began working with Flash, which today is considered to be quite inferior when it comes to compatibility and overall efficiency.
Company History and Business Mission
All those years ago, RTG started in the capital of Georgia, Atlanta – in the USA. It didn't take much time for the company to relocate its business of operations in Costa Rica. After a successful rise in popularity, RTG's brand took a "reputation hit" as a number of "less-than-reputable" online casinos used the company's gaming software for nefarious gains, which somewhat "infringed" on the status of the company as a reputable provider. Sources speculate that it was the lack of background checking that resulted in the unpleasant situation; however, RTG's name is supposedly cleared, and they have returned to the limelight as being a revered "legacy developer". Although RTG is quite known in the iGaming markets of Europe and USA, its newfound glory is thanks to their newest subsidiary company – RTG SLOTS, which has become the primary developer of RTG's games. Through RTG SLOTS, RealTime Gaming has also managed to break into the Asian market as well.
Some of the Unique Game Features of RTG
The floating symbols are one of the best unique features produced by RealTime Gaming! Another unique feature of RTG's is their custom-developed mobile game lobby. Once a browser has detected that the player uses a mobile device, it will automatically switch to "mobile mode" and display only the games that are compatible with that particular phone or tablet.
Additional News and Contact Methods
It was a bit surprising to learn that one of the most well-known online casino software developing company in the world, is almost non-existent in the social media scene. RTG does have a basic profile in LinkedIn where they list some basic information about the business, but that's pretty much about it. Interested parties, however, can contact RTG through the official contact form listed on their website.
How Does RTG Compare to Others?
No reviewing agency or industry critic can deny the place in iGaming history RealTime Gaming has. Granted, RTG is still highly competitive, especially among developers that offer their games in the USA. In fact, when compared to them, it seems as though RealTime Gaming is the number one choice for online casinos who operate on US territory.
Partnerships with Casinos and Other Companies
RealTime Gaming has an incredibly large number of clients and business partners, some of which include companies like SoftGamings, QTech Games, and others. It is essential to mention that even with a lot of experience in the industry, RTG is a developer first and foremost, and this is why its business partners are essentially companies that offer game aggregation and distribution services through their own platforms.
In Conclusion – Widely Available in the Industry
Although this developer seems to currently be in a state where they are far away from their former glory, this doesn't mean that they won't pick themselves up, and perhaps once again influence the iGaming industry with innovations like they used to. Today, the main part of the company is more focused on providing casino platform management services and products, while leaving any actual game development to its subsidiary RTG SLOTS. Whether or not RTG will see a rise in popularity like it used to many years ago, is irrelevant, because the best new casinos online still want to have a piece of legacy software from this iGaming industry veteran!