The Felt Gaming Review - a Full Analysis of the Company and Its Gambling Products
Felt Gaming is an online casino gaming software developer that was established in 2013. Self-professed to offering "world-leading online casino table games", the company seems poised to set new standards in the iGaming industry, when it comes to the creation of online table games. What is even more interesting, is their dedication to make that possible on all available gaming platforms, which include mobile devices. Renowned among both land-based and Internet gambling venues, Felt Gaming's Blackjack, Poker, and Roulette titles seem to be something that all the best new casinos online want. Today we will explore Felt Gaming in its entirety and see why both players and competitors hold this developer in high regard.
Exclusively Creating Table Games
What is interesting is that Felt Gaming is perhaps one of the very few developers worldwide that design and develop classic table games exclusively. There are no slots or speciality titles here, which is both surprising and refreshing at the same time. In addition to featuring some of the most classic alliterations of the casino table games genre, Felt has also developed a couple of their own interesting variants. In the "social spirit" of the games themselves, Felt has made most of them available in both single and multiplayer modes.
At the time of creating this review, we determined that Felt featured 11 games in total, with five additional ones that are about to be released in the near future. You can learn more about the games themselves from the paragraphs below.
The Most Titles Are of the Blackjack Variety
Out of Felt's entire portfolio, seven of the eleven games are blackjack variants. Although they can be distinguished by their different colour schemes, rules, and features, the interface and controls will be identical. What all blackjack versions here have in common, is the exceptionally high quality of the graphics, sounds, and animations. Felt has truly made an extra effort in order to produce a selection of games that looks incredibly balanced and plays out smoothly. Some of the most innovative Blackjack titles of Felt are:
"Buster Blackjack™"

This version of the game relies on the dealer "busting" his hand. Prior to dealing the first two cards, the player can make a regular bet and a "bust" side bet; should the dealer busts in three or four cards, the payout to the player will be 2 to 1. Once a side bet has been placed, and the player hits a natural blackjack, six more side bet conditions become viable, which proportionally increase the payout odds with the number of cards used by the dealer to bust. For example, if a dealer busts with five cards, the payout to the player will be 4 to 1; however, if the player busts with more than eight cards, then the payout to the player will be 2,000 to 1! The base RTP of Buster Blackjack is 99.63%, and 93.80% for any side bet play.

"Blackjack Lucky Lucky™"

There are eight "Lucky Lucky" side bets available, with the highest one (triple sevens suited) paying 200 to 1. Any side bet win will be based on the players first two cards and the dealer's up card. The first four side bets will payout for a successful combination of cards that result in the following numbers – 19, 20, 21, and 21 suited. The other four side bets are 6-7-8, 6-7-8 suited, triple sevens, and triple sevens suited. What is interesting about this particular blackjack version, is that it has been distributed in over 1,500 land-based casinos worldwide!

"Blackjack 21+3™"

Uses blackjack as a base game but introduces side bets that activate by using rules from poker. Just like with "Lucky Lucky", 21+3 uses a player's initially dealt hand and the face-up card of the dealer. If a player is lucky enough to score a flush, their payout will be 5 to 1; should they get a straight, the reward will be 10 – 1. Three of a kind has odds of 25 – 1, straight flush 40 - 1, and suited trips, which will pay 100 – 1.

"Blackjack 6in1™"

This particular version allows a player to make any of the side bets, from the other standalone game versions. One of the most notable features here is the "bet all" button that allows the player to bet on three hands simultaneously and on all six side bets – Perfect Pairs, Buster, Lucky Lucky, Suit 'Em Up, Lucky Ladies, and 21+3.
A Couple of Poker Titles
Currently, there are two "casino poker" styled games – "Texas Hold 'Em Bonus" and "3 Card Hold 'Em". While essentially, they both play the same, the "Bonus Kind" poker variation offers a progressive jackpot, which can be won by getting a "Royal Flush" hand. If a player bets on the "Texas Bonus" side bet, they will have the chance to score some big payout odds (up to 1,000 to 1) for receiving a specific set of cards.

The three-card Hold 'Em poker version might not feature the progressive jackpot of its counterpart, but it still provides a variety of additional side bets. Those are divided into two categories – "Pair or Suited" and "Straight or Better". If a player is lucky enough to get a hand that is A-K-Q + Pair, they can receive a 100 to 1 payout. If they wager on a "pair or suited" opportunity, they will be able to score a 50 to 1 payout from a hand made of an Ace and King of spades.
The Roulette Title Is Only One
The "Double Ball Roulette™" is the only released roulette variant of Felt Gaming. As the name suggests, there are two balls in this European-styled wheel; however, the extra ball isn't the only addition to this classic game. Felt is famous for developing a variety of interesting side bets, and their roulette game is also no exception. For example, players will be able to make regular bets, as well as "two-ball" bets such as "red and black", "any same number", and also a "2 balls chosen same number" bet that pays 1,200 to 1!

The Company Is Licensed by the Most Reputable Administration
The company "Felt Limited" is licensed and regulated by none other than the United Kingdom Gambling Commission. Possessing a license from the UKGC means that Felt Gaming has been subjected to audits and test for verifying the safety and fairness of its gambling software, and has also complied with a large number of Industry requirements that prove the developer to be a morally and socially responsible business.
Full Platform Compatibility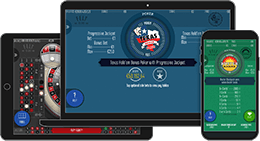 Felt Gaming has done a superior job into making its software fully compatible with all smartphones, tablets and computers. Any games made by Felt can be played on the Android, iOS and Windows operating systems, due to the developer using HTML5 as their chosen tool for creating the software itself. In addition to superior functionality, the screen scaling of all games is optimised to fit on any device, regardless if it's in portrait or horizontal orientation!
Additional Company History and Future Business Goals
By investigating the developer even further, we were able to determine two things – Felt is based somewhere in the United Kingdom, and the company itself has a staff of no more than ten people! Folks that come across Felt's games are left with the impression that they are produced by a large business, and this is definitely a testament to the developer's incredible quality of work.
The company claims to offer the "best table games in the world" – if we are to judge by their results, Felt are not far off from what they preach. Their gaming software looks and plays amazingly, supports multiple languages and platforms, and is already used by more than 20 online casino operators. Felt gaming has only one goal – to continue providing innovation on the table games scene.
News about Felt and Contact Methods
Although there aren't any official press release pages for the company, readers and potential business partners can always learn more about Felt Gaming from their official LinkedIn account. While the developer also has listed to have a Facebook profile, there is no information posted there. The best way to acquire additional intel about Felt is through the email contact form made available on their website.
How Does Felt Compare to Others in the Industry?
For such a small company to make such an impact on the iGaming industry with its outstanding table games, is almost unheard of. The thing is hybridisation of different elements in games of the table variety has long been a tumultuous task which even big developing companies shy away from. If we compare Felt by the size of its business, it won't rank that high; however, if we are to judge by the quality of their products, then they might just be offering the best online casino table games in the world.
Complete Care for the Privacy of All Players
Felt Gaming conforms to all of the industry-established rules for client privacy (GDPR) and lists a lengthy policy feature on their official website. The developer also lists the full contact details to the Information Commissioner's Office of the United Kingdom if people wish to file a complaint regarding the use of their personal details when visiting Felt Gaming's website.
Partnerships with Casinos and Other Companies
Both the best new casinos online and software aggregators wish to work with Felt, which is why the company today has amassed many partners, including LeoVegas, EveryMatrix, Slots Million, bet365, Unibet, William Hill, Mr Green, Betsafe, Leander, Relax gaming, SG, and so many others! To this day, Felt continues to gather more iGaming allies, some of which are considered to be the best new casinos online.
Felt Gaming Is Destined for Further Greatness
A developer such as Felt Gaming shows incredible dedication and ambition for business growth, which is why they are heading to the top with a steady pace. Granted, due to the small size of the company it is challenging for them to produce the quantity that is constantly demanded by the iGaming industry; this, however, doesn't stop them of being recognised by some of the biggest names in the UK and European online gambling markets.