A Small Software Development Studio with a Lot of Heart - the Air Dice Review
Air Dice (also known as ADG) is a gaming developer studio that is said to be established in 2003. Specialising in the production of software for online casinos and bingo clubs, this company started getting a lot of attention from the iGaming industry. Air Dice is a relatively small company; however, for a "local" business, it manages to set and achieve its business goals. Today our readers will learn everything about this developer, including its interesting business history and a full portfolio of software casino products.
A Compact Gaming Selection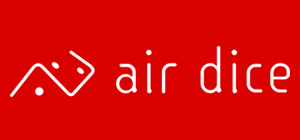 There are 30 games produced in total by Air Dice. By industry standards, this number isn't considered to be impressive; however, it is the quality that makes the games of Air Dice stand out. The main types here are slots, dice games and table titles. Regardless of the gaming genre, all of the games of Air Dice look and play incredible. From the high definition graphics to the smoothly transitioning animations, the games of this company truly example "high-end" behaviour.
The Slots Are Mostly Dice-Related
What makes all different slots of this developer fall within a common category, is that they incorporate the "dice design" in one way or another. In most cases, it is the reel symbols regardless of the overall theme of the slot. Nevertheless, all slots of this developer are of original design and offer an impressive collection of bonus features as well as several types of jackpots (including progressive). You can see some of the best Air Dice Slots below.
"24k Gold Reels"

This 5x3 reel layout slot seems to be modelled after the developer's name because all of the symbols in it are made of dice. 24k has a lot of neat mechanics and functions; however, one of the most impressive ones has to be the three jackpot types here (Minipot, Jackpot, and Grand Jackpot).

"Octane Overdrive"

Delivering a fast-paced "wow" factor through a first-person view, this 5x3 driver themed game is also considered to be a "dice slot". The car's "gear" represents the value of the win multiplier, which will increase by one, every time a player lands a winning combination. Once a player has reached 6th gear, they will have the chance of scoring up to 50 free spins - if they are lucky enough to land the maximum number of NITRO symbols. Octane Overdrive has five fixed pay lines.

"Flash Freeze"

This is a cold 5x3 slot that can bring some "hot reel action". Once there are two or more adjacent "wild and freeze" symbols appear, they can cause the entire reel to freeze up, essentially locking them in place while the remaining reels re-spin for two times. Once all five reels have been frozen, the game will provide the player with six mystery games, and also "thaw" out the reels themselves. Flash Freeze is also a slot with five fixed pay lines!

"Super Lucky 7"

This "star-studded" 40 pay line, 5x4 slot offers a lot more in terms of gameplay, than what its deceptively simple layout may suggest. Once a player has landed a win with an at least one lucky seven symbol, they will have the chance to double their winnings. On the other hand, five of those symbols in a single pay line are guaranteed to win one of the jackpots. The "double winnings" chance is a prompt to a gambling mechanic, where players have to guess the colour of a drawn card.
Dice Games More Than Anything!
We mean come on, it's in the name of the developer itself - "Air Dice". What we didn't expect, however, was to see an online casino games development studio that has more dice titles than there are actual slots! For those unfamiliar with the genre, dice games are a "type of slot" that provides four 3x3 grid boxes, and then deals stacks of three dices, which the player can automatically assign to a box, or just hit the "auto" button. The objective in all those dice games is simple - to make a match of the same three symbols. Once a payline is achieved, the game will perform a payout. You can check out some of the most original examples of Air Dice below.
"Spirit Sisters"

This is another dice game that goes far and beyond any genre standards, by introducing a vivid storyline, and a number of bonuses. There are four boxes, each with a 3x3 layout, where players have to stack triplets of dice that appear in the middle of the screen. If three bonus symbols are placed in a straight line, the bonus game will commence - it is essentially a prize wheel that can be spun up to five times. Should the arrow lands on a prize that isn't acceptable by the player, they can reject it and re-spin the wheel.

"Mega Wheels"

This dice game stands out with a slew of additional features, that include two types of jackpots and more. Once players have managed to gather 30 out of 30 "coins", the cashback will unlock, giving the player either a money win, points, mystery games, or the progressive jackpot. Just like with Spirit Sisters, if the arrow stops on a field which the player doesn't like, they can either reject or accept it.

"Choco Deluxe"

As you would have guessed, this dice game is desert-themed, but that's not what's special about it. Once the game is loaded, a person can choose whether they would like to place their dice in a regular matter or have all of them appear at once, for a "slot-like" experience. What is interesting here is that this game even offers "slot-similar" bonus features. For example, if a player lands three "winning boxes", a winning multiplier will increase the winnings by x1.5. If the boxes are four, then the multiplier will be x2. If one box produces the same nine symbols, a player will score an immediate 200 points.
Only Two Table Games
Midnight Blackjack and Midnight Roulette are the only two table games in the entire Air Dice roster! We were a bit underwhelmed because of this because the visual and functional quality of both those games is absolutely spectacular. Everything from the graphics to the animations is done with outstanding attention to detail! Midnight Roulette is modelled after the classic, European version of the game, and won't feature anything out of the ordinary. The Midnight Blackjack is also a relatively standard alliteration of the game, with the exclusion that people can play up to 3 hands at the same time.

Licensing and Regulation of Air Dice's Business
Although Air Dice lists no information about any licenses, we managed to find out that all of their business is performed in accordance with the rules listed within the Finnish Lotteries Act created by the Ministry of Interior of Finland. Since all of the software products of Air Dice have been tested and certified by an independent administration (Kiwa), they have fulfilled the criteria enforced by the Gambling Administration Department of the National Police Board of Finland.
In light of these legal procedures, Air Dice is considered to be legally licensed "de jure", due to the fact that the Finnish gambling control administrations do not practice the issuing of exclusive permits for gambling software developers. The bottom line is that Air Dice's online casino games are legal, safe, and fair.
Mobile Platform Compatibility and Used Development Technology
The majority of the Air Dice Games have been produced with the use of the HTML5 platform, which explains their compatibility with Android and iOS mobile devices. When Air Dice started out, they were heavily reliant on using the software developing platform Flash, which is known to be incompatible with most modern smartphones and tablets. Although most of the titles have been reworked with the use of HTML5, there are a few who still remain on Flash.
Interesting Company Facts and Upcoming Business Achievements
Although the official establishment date is considered to be 2003, Air Dice as a company was registered in 2002. To this day, the developer is based where it was originally established - in Helsinki, Finland. It is interesting to learn that the initial evidence about the company's first website appeared four years later, in 2007. Considered to be pioneers in the iGaming industry, Air Dice was the first company to release the first real money mobile game in the world (Joker Poker in 2004)! To this day, the company's original goal continues to remain the same - providing the iGaming community with innovative and entertaining real money gaming solutions!
Some of the Unique Gaming Traits of This Developer
Even as each game of Air Dice loads, players can click on the "quality setting" button and choose the mode in which the game should run. This is made available by Air Dice, so players on older machines are able to still have a proper gameplay experience. During a game's loading sequence, players can disable additional animated features for smoother gameplay experience. We should note that the "slam stop" function of both the slots and dice games is incredibly responsive, and those players that like their sessions to be fast paced will definitely put it to good use.
Air Dice News and Additional Information Portals
Finding more about the recent business achievements of Air Dice can prove to be a slightly challenging task. The developer doesn't offer a press release section, and their only mainstream social media account is located in LinkedIn. On the other hand, the developer publicly lists a number of contact methods, which interested parties can use to learn more about Air Dice.
Partnerships with Casinos and Other Companies
Regardless of its "compact" size as a company, Air Dice still has a number of business partners, including brands such as Unibet, Betway, Blitz, Lucky Games, Bingoal, Star Casino and others. The developer is focused on gaining both partners from the online and land-based casino niches, which is why it doesn't come as a surprise that many of the best new casinos online decide to incorporate Air Dice into their gaming rosters.
Air Dice Is a Unique Software Developer
Industry experts have known to point out the fact that the number of online casino games released by Air Dice is quite small, which is surprising, because the company has nearly two decades of professional experience. With a staff of approximately 20 people, it is still commendable that they not only managed to hold together throughout many years and continue to create online gambling innovation even today. We are looking forward to seeing what Air Dice will come up with next!