Some of the Best Asian Live Casino Tables - eBET Software Developer Review
Founded in 2012, eBET set out to become the number one live dealer and aggregation platform provider in Asia. These days, the company offers an outstanding variety of live casino solutions, which have made a lasting impression on the overall iGaming community. Featuring a licensed platform and a number of aggregated RNG games by a third-party developer, eBET has proven to be an ambitious business that started to quickly gain reputation on the international iGaming market. Here, our readers will learn more about the gaming portfolio of eBET, and also discover how this developer and provider started to impress is peers.
The Games - a Summary of the Portfolio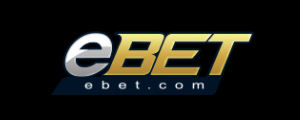 eBET offers approximately 90 casino games. Two factors need to be taken into consideration when examining the games here; number one, almost all of the games are of the "live casino" variety. There are instant titles, which are mostly slots; however, they have been granted to eBET, courtesy of the renowned developer PG Soft (Pocket Games Soft).
The Live Casino Is Fresh with Content
The following live dealer genres offered by eBET, are Baccarat Live, Multi-Table Baccarat, Dragon Tiger, Sic Bo, Roulette, Game Show, and Chinese Poker ("Bull Bull"). It's no secret that Asian live casino players hold Baccarat as their "most favourite" game, which explains why that section of the lobby is most populated with gaming tables. The tables present in all other game sections are relatively the same in quantity. The betting ranges here are various and will largely depend on the type of game and table; however, the displayed minimum is ten currency units, while the maximum - 1,000,000 currency units.
Baccarat Live, Multi-Table and Dragon Tiger Tables
There are approximately 35 tables on average (combined) in the Baccarat, Multi-Table, and Dragon Tiger sections. What should be noted is the highest betting ranges in the entire eBET live dealer lobby, are present only in the Baccarat section. Asian-based live baccarat tables are renowned for being exceptionally detailed when it comes to displaying the history (roads) of previously played hands, which is also the case with the lobby of eBET.

The types of "roads" shown in the live dealer, multi-table, and Dragon Tiger baccarat sections, are Bead, Big Eye, Big, Small, and "Cockroach". It should also be noted that registered players will even be able to examine all "payout records" of previously played hands. We found it strange that although Dragon Tiger is virtually a two-card version of baccarat, it has only two tables; furthermore, its betting limits are also the smallest ones ( 10 - 10,000 currency units).

The Roulette Has Only a Few Tables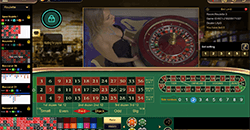 There are only three roulette tables available at all times and adhere to the same "European" set of rules. Regardless of which the table will be chosen by the player, the betting limits of all of them is the same; from 10 to 10,000 currency units. In a similar fashion to the baccarat games, the history of all played rounds will be displayed in "road style"; however, the gaming interface will also display how many times the roulette ball has landed on any red, black, odd, even, and zero pockets.
Only One Sic Bo Game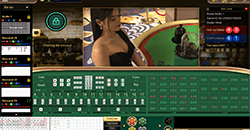 Although there is only one single table of Sic Bo, it provides a multitude of betting possibilities. Like other examples from the live dealer lobby, this live dice table displays a full record of all dice throws. Players can place a wager on more than 80 available betting fields, and benefit from payouts from 1x1 (for odds and evens) to 1x150 (for a dice triplet of the same number above four). The wager range for Sic Bo is between 20 and 50,000 currency units.
The Slots Offered by PG Soft Are Many
Under the dedicated slot section, eBET offers nearly 50 titles from the company of PG Soft. The reason why this Asian developer chose to feature only PGS's software within its gaming portfolio, is due to the fact that all of PG Soft's games are designed in "portrait mode", which coincides with eBET's tendency for "mobile development". You can check out some of the most popular examples of PGS's slots below.
Licenses and Accreditations of eBET
As a provider of live casino services based in the Philippines, it is understandable why eBET is licensed by PAGCOR (Philippine Amusement and Gaming Corporation). Although this is the only license that the company possesses, their gaming software and products are certified for fairness and security by none other than GLI (Gaming Labs International). Another interesting fact is although the slots present within the lobby of eBET are provided by a different company, they are licensed by the United Kingdom Gambling Commission, the Malta Gaming Authority, and are certified for fairness and security by BMM labs.
Mobile Device Compatibility and Additional Platform Support
Interested parties will be happy to know that eBET's software is fully HTML5 compatible - this means that any mobile devices that run on iOS and Android will be able to run the live dealer lobby via any mobile browser. This developer also offers an app which can be downloaded from the website itself. One of the drawbacks of it, however, is the fact that it is for Android only; which means, that Apple mobile device users will have to stick with the web version of eBET's gaming products.
Additional Company History and Business Mission
An interesting fact is that the first evidence about an eBET website appear four years after the company was founded - in 2016. From what we could discern, the initial platform in which eBET developed its live gaming solutions, was Flash; however, it was in 2016, when the developer completely managed to fully convert its live gaming environment into HTML5. This was indeed a smart decision, as it not only made eBET's live dealer platform more accessible by a wider range of devices but also increased the company's overall marketability in the iGaming industry.
Another incredible landmark for eBET is their expansion to the European gaming market, which happened earlier in 2020. The reason for this is that eBET opened another live casino studio, in Estonia. The company's SEO has clearly stated that their goal is "to become the number one provider of live dealer solutions in the world", and by the looks of it, eBET is definitely working towards their goal!
Some of the Unique Platform Features of eBET
The multi-table functionality is something that we have rarely seen in a live casino lobby. eBET's multi-baccarat table allows for a "quick play" on several tables at the same time, by displaying only the gameplay history, and cards being dealt. Another feature that we haven't witnessed before is the actual incorporation of third party RNG software within the live dealer lobby! We are not entirely sure how this is technically done, but this is definitely something that opens up a lot of opportunity for the future gaming expansion of the platform.
News Portals and Other Sources for Relevant Info
We were pleasantly surprised to find out that eBET manages a regularly updated news section, as well as several social media accounts. Since their live dealer products rapidly started to gain popularity, they made a good strategic marketing move by amplifying their online exposure. Today, everybody who is interested what is going on with the company and if it offers any new games, can find out on YouTube, Facebook, Weibo, LinkedIn, and of course, eBET's official website. eBET regularly releases new video content on YouTube, showcasing a variety of aspects from its studio.
How Does eBET Compare to Others in the Industry?
The company describes itself as being "the first leading supplier of live dealer and mobile iGaming services in Asia", which isn't too far ahead from the truth. When compared to other Asian based live casino providers, eBET's live studios, software platform, and overall quality are much better than that of many other Asian live dealer companies out there. Furthermore, this provider's expansion into the market of another continent, speaks volumes about their ambition; these traits, are definitely proof of a successful iGaming business.
Partnerships with Casinos and Other Companies
Currently, there is no public record of other partners besides Microgaming and PG Soft. With the company mainly offering its services in Asia, it is understandable that most partners of eBET would be online casinos of the same demographic. On the other hand, due to eBET's continuous strive for progress, they have engaged in a mutually beneficial partnership with the iGaming giant Microgaming. The two companies have agreed to offer each other's live dealer services through their own aggregation platforms, in order to satisfy the increasing demand of players.
Our iGaming "Prophesy" Regarding eBET
eBET seems to be at the right time and in the right place when making all of its infrastructural changes. Although they were established nearly a decade ago, it seems that their business persistence has started to "pay off" now, and it does so on a massive scale. Although eBET isn't quite yet popular among the European markets, its potential for increasing the revenue of both other aggregation platforms and online gambling operators has already started to gain the attention of the best new casinos online. It's just a matter of time before eBET takes its place next to the best live dealer developers in the iGaming industry!