Cayetano Gaming Analysis - Dedicated to Providing Superior iGaming Solutions
Cayetano Gaming is a designer and developer of online casino games that officially came into the iGaming scene in 2011. As a part of a much larger business family, this developer has managed to make its mark on the industry, and today remains a trustworthy creator of quality casino software. In today's article, our readers will learn more about Cayetano Gaming's portfolio of software products and services, as well as the nature of the company.
The Games of Cayetano Are All Slots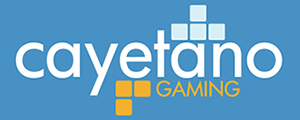 Cayetano Gaming currently offers 89 titles in its portfolio. They are all of an original design, offer numerous visual themes and perhaps the most important factor of all is that they are all slots. While a good number of them do offer additional features that will mix the gameplay up a bit, Cayetano seems like a company that is all about that "reel action".
The Slots Are Quite Various
The first thing to note about the slots of Cayetano is that although different, the most prevalent reel pattern is 5x3. By all accounts, this doesn't mean that the company doesn't explore additional layouts; in fact, this developer seems to have a slot title made in every reel design possible. In terms of themes, Cayetano seems to favour the design of classic slots, as it becomes evident from the "old-time" styles of both the interface and the symbols themselves. Although the modern-looking slots are as numerous as the other ones, all of the games share one important trait – their gameplay features are all modern. We have analysed some of Cayetano's most popular slots below.
"Paddy Power Gold (PPG)"

With a chance to receive unlimited free spins, a win multiplier bonus that can get up to x500, and a jackpot that can pay x1,000 times a player's bet, this leprechaun-themed slot has a lot to offer. In addition to the three random bonuses, players will be able to place a bet as little as £0.20 for a game round, or as much as £450! The bonus symbols of this 5x3 slot, are the wilds and scatters, which in different combinations will result in a variety of bonus games.

"Russian Glory"

Heavily leaning on the "tsarist" style of the late 1890s, this interesting slot offers a chance for instant wins that can give up to 50 times a player's bet, and a bonus wheel that provides a massive jackpot. Although the reel layout is a classical "5x3", the betting limit definitely isn't standard – the minimum someone can spend on a spin can be £0.10, while the maximum - £1,000! The game has 10 fixed paylines and a number of special symbols.

"Wild Stars"

This is an interesting take on animals in the African savannah. Although initially, participants will play on a reel layout of 5x4 with 40 fixed pay lines, a special combination of symbols will unlock the top row, turning the game into a 5x5 slot with 100 pay lines! The game also features incredible payouts, wilds symbols, free spins, and respins.

"Fruit Pops"

It can easily be mistaken for a game of the "candy crush" genre, if it wasn't for the cascading reels. Fruit Pops has a 5x5 layout, and any winning combination will result in the successful symbols disappear, dropping additional ones from above. This fruity slot also features a wide betting range, and it doesn't seem to feature pretty much anything else, besides one important feature – the winning multiplier gauge. Every time a player has a winning combination, the gauge will fill up a bit after each consecutive win and deplete immediately on a losing one. On the other hand, if you're lucky enough to make a winning bet on your 21st consecutive round, you might witness a life-changing profit.

"Forest Rush"

This is a "magical" slot that offers stacked wilds and a bonus symbol shuffle that definitely spices up the gameplay. All in all, this is a 5x4 slot with 40 win lines and an expanding wild feature. One of the things that set Forest Rush from other titles in this list is that the game has a relatively narrow min-max betting limit. While the minimum that can be wagered per spin here can be £0.40, the max will be "only" £60.

"Dark Jungle"

Offers free spins, multipliers, sticky wilds and a whole lot more. This jungle-themed slot features 3D graphics, many special symbols, and 40 fixed pay lines. A winning combination from one of the game's symbols can result in an instant x50 bet win! If that doesn't sound enough, then you will definitely like the re-spins that can be triggered during the "free spins mode".
Licensed and Certified by Corporate Association
As a developing company that is owned and operated by a more significant business entity, Cayetano Gaming benefits from a remote type license issued by the Malta Gaming Authority and the United Kingdom Gambling Commission. By falling under the same jurisdiction as its parent company, Cayetano's software also bears the certificates for fairness and security from the independent technological testing companies GLI and BMM test labs. Although the developer doesn't state it outright, there are official documents posted publicly online, that verify Cayetano's legitimacy.
Mobile Platform Support and the Use of Development Technology
We were happy to discover that the majority of Cayetano Gaming's titles are compatible with the majority of mobile devices that run on Android and iOS. The high-level compatibility of the developer's casino software is due to the fact that they utilise the HTML5 development platform. Those games that don't run on modern smartphones and tablets are usually some of the first ones made by Cayetano, on the much older and somewhat inferior platform "Flash".
Additional Company History and Future Business Plans
What is officially known, is that the giant iGaming business Paddy Power Betfair, acquired Cayetano Gaming in 2011; however, the real date of the company's establishment, is 2009. What is even more interesting, is that Paddy Power is a company that belongs to "Flutter Entertainment Plc" – a holding company that was formed from the merger of Paddy Power and Betfair. Flutter Entertainment is licensed and certified, and therefore all of its properties are too – including Cayetano Gaming. With the strong resource backup from its parent company, Cayetano Gaming entered the iGaming industry with a "running start".
Today, their gaming software is offered in approximately 100 online gambling websites, in a number of different countries. While there are no official statements regarding the future plans of the business, the company will continue releasing several gaming titles per month!
Additional News About the Company
The only channels used by Cayetano for distributing information about its latest achievement are the developer's social media channels in LinkedIn and Facebook. Readers can either follow those channels regularly or contact Cayetano Gaming directly through email for additional information. Although quite a few folks might find the general lack of information somewhat odd, we are aware that this is considered to be somewhat common for developers who are completely managed by a larger business entity.
How This Developer Compares to Others in the Industry
Although not being an independent software developing company like many others, Cayetano Gaming still provides a good variety of high-quality gaming products. While it is a bit too early to consider them as an industry leader, they are definitely among the "upper-middle class" of online casino developers on the market.
Partnerships with Casinos and Other Companies
Given the fact that the company is an outsourced business for Paddy Power Betfair, any partners they have would also be connected to the parent company itself. With that being said, it is understandable why the developer's major "client" is the Paddy Power casino. Although the parent company is also the one that employs the services of Cayetano the most, the developer's games are also featured in some of the best new casinos online.
There Will Be More Surprises in the Future
Although Cayetano Gaming seems like a "typical" slot games developer, they have officially stated that they are capable of providing titles of different genres, such as card games, roulette, craps, and many others. Given the already good quality of their current titles, we are incredibly interested to see what kind of gaming software they would come up in the future!