Unique Titles and Special Features – a Full Gamomat Review and Analysis
Gamomat is an online casino software developing company that was established in 2008. This German-based business quickly became popular among European operators, because of its wonderful selection of games, as well as their exceptional construction quality. The games of Gamomat support a good number of languages and currencies, which make them easily incorporable into the rosters of the best new casinos online. In today's article, you will understand how Gamomat managed to make it in the iGaming business!
The Games Are Many and Various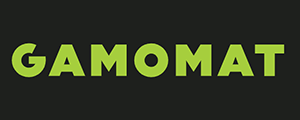 This casino software developer says that they offer more than 250 games; however, after performing a manual count, we discovered that they are approximately 150. All of the game types produced by the company are slots; however, this developer has managed to incorporate a number of special features that have grabbed the attention of both the industry and players alike.
The Slots Are Constructed Remarkably
What makes the first impression of Gamomat's slots is their actual visual quality. Although they all have original themes, most of them are classic-looking, and feature layout standards such as the 5x3 and 3x3. On the other hand, they are considered to be some of the best ones worldwide by both old and new school players, because the responsiveness of every slot's controls is instant, and all animated features move as smooth as butter. You can check out some of the most popular Gamomat slot titles below:
"Take 5"

It looks and feels as simple as it can be. This classic 3x3 fruit theme slot has five pay lines, which pay both ways. The betting range is ideal for "low rollers", as the minimum amount a player can place on a spin is €0.02 and the highest - €3. The win repeater feature will definitely keep all players entertained.

"Golden Egg of Crazy Chicken"

This is a spin on a popular Flash game from back in the day called "Moorhuhn". This chicken slot with a comical Egyptian theme and a 5x3 reel layout has 10 pay lines in total which the player can adjust to five if they want to. It also features free spins, re-spins, expanding wilds, and a lot more extras!

"Ancient Magic"

This is a five-fixed paylines slot with a "magic" theme. Also done in a 5x3 pattern, players will be able to benefit from extra features such as wild, scatter, and bonus symbols, free spins, and a gamble feature that will give you the chance to double your winnings.

"Roman Legion"

This is the slot series that come in several different types, each with an "extra special" feature. In its base version, this is a slot with a dual pattern; one is a 5x3, and the other is a "locked" 5x9. There are wilds, scatters, free games, and 20 pay lines. Depending on the version, Roman Legion can come with a special feature " Red Hot Fire Pot", "Golden Nights Bonus", or "Crazy Chicken Shooter".

"Wild Rubies"

Offering wilds, scatters, and 10 fixed pay lines, this fruit-styled slot also belongs to the "series family" which comes in several different versions, every one of which with the defining features depicted in Roman Legion. This slot also has not one but two gamble features – one that gives a chance to the player to double their money, while the other allows the player to climb the ladder to a reward.
Licenses and Certificates Possessed by the Company
Although Gamomat themselves do not mention it, they apparently are licensed by the Malta Gaming Authority. Other online sources speculate that the company also possesses licenses from the United Kingdom Gambling Commission. The interesting fact here is that those claims don't come from Gamomat themselves, but from their own business partners, who also happen to be quite renowned in the industry.
It is also mentioned that Gamomat's online casino software has also been certified by BMM testlabs. Although such "outside claims" don't tend to carry much "weight", we are more inclined to believe them due to the fact that Gamomat is actually awarded the "Top Company" and "Open Company" certification seals by one of the leading rating analysis and statistics calculation companies in Germany – Kununu.
Mobile Systems Compatibility and Additional Platform Support
All online casino games produced by Gamomat, are fully compatible with an outstanding variety of both hardware and software platforms. What this means is that all modern smartphones and tablets that run on either Android or iOS will support the games of Gamomat. This level of compatibility is achieved through the use of the software development platform HTML5.
Interesting Facts about the Company and Future Business Goals
Initially, Gamomat was founded as a proprietary developer of the casino VLT manufacturer and distributor Bally Wulff. Gamomat's motto "passion for games and people" reveals a customer-centric work ethic and philosophy. As much as the developer is driven by the latest trends in online casino gaming, their primary goal is to create games that provide superior software functionality in the first place, and their secondary mission is to make them look good. Although Gamomat has defined itself as a "medium-sized" company, they have all the necessary characteristics to become a huge industry leader in the future.
Some of the Unique Game Features of the Company
When it comes to unique game functions and features, the first thing we should mention is the incredible response of the gaming controls of this developer's games. Commands like "spin" an "slam-stop" have an almost inexistent latency, which means that as soon as a player clicks on the play button, the game animations engage in a split second.
In addition to the highly responsive controls, Gamomat's games offer four distinct gaming features – "Red Hot Fire Pot", "Respins of Amun Re", "Golden Nights Bonus" and "Crazy Chicken Shooter". Although different, those features are essentially special mechanisms meant to grant a specific jackpot amount. We have explained how they work below.
"Red Hot Firepot"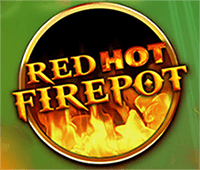 This is a progressive jackpot slot feature that allows the player to set aside a small sum of money from each spin and compound it into a "pot". After collecting a combination of special "oven" symbols, the accumulated jackpot is released as winnings. There is a mini-game that must be won in order for a player to advance further. One of the best things about this feature is the fact that there are three selectable progression levels, which also determine how much of your money will be deposited to the "jackpot fund" with each spin. If players don't want to participate, they can simply toggle the feature off!
"Respins of Amun Re"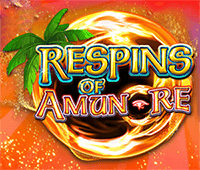 Every slot game that carries the "feature seal" of this particular function will give the players a chance to score a nearly unlimited amount of free spins. Once a player has landed five or more bonus symbols, the game will grant three special spins. During those spins, the only symbols that can land (or not) are the special ones. Every time a special symbol lands on any reel, it becomes a sticky wild and will reset the spin counter back to three again. If the player lands special symbols on all possible positions, in addition to the winnings from the combined symbols, the players will also receive an additional "Super Ra Bonus".
"Crazy Chicken Shooter" and "Golden Nights Bonus"
Is also a type of compounding jackpot similar to RHFP; however, once it is triggered, it will bring the player into a "shooting gallery" with chickens and a number of shotgun shells. Every chicken that is shot down will provide the player with a specific prize. The Golden Nights Bonus, on the other hand, is nearly identical to the RHFP one; with the exception that instead of three selectable wager levels, it has four. This bonus feature can also be turned off on command.

News About the Company and Contact Methods
Finding out more information about Gamomat can happen through the company's social media accounts at LinkedIn and Instagram. Granted, the additional news readers will find there will be somewhat superficial, but it will still provide insight on any upcoming gaming software products and services. Interested parties that wish to learn more about the business can contact Gamomat's support staff via the email address available on their website.
How This Developer Compares to Others in the Industry
Gamomat is a company that is backed up by experience, quantity and quality. Additionally, the fact that their software is also produced for both online casino platform and physical terminals additionally puts Gamomat in a "league of their own". By taking these factors into consideration, it is safe to say that Gamomat is indeed a strong competitor to other iGaming companies.
Partnerships with Casinos and Other Companies
As a spiritual "heir" to the company Bally Wulff, it doesn't come as a surprise that Gamomat has gained many business partners since its conception. Today, some of the brands that are promoting and distributing Gamomat's software gaming products are Slots Million, EveryMatrix, Solid Gaming, ORYX and quite a few others. The online casino gaming products are offered by a good number of aggregation platforms, which allows the developer to receive further market exposure while expanding its circle of successful business partnerships.
In Conclusion – Revered for Being Dependent
In the world of online gambling software, games that are played with real money are expected to be impeccable and bug-free. Gamomat is a company that has an incredible journey throughout its incorporation in the iGaming industry. Today, it continues to be one of the most dependable and ideal choices for the best new casinos online!