Premium Mobile Content for All Online Casinos - a Full OneTouch Review
OneTouch is an online casino games developer that was established in 2016. Based in the Isle of Man, OneTouch is one of the very few casino software creation companies that have almost completely dedicated themselves to the "mobile" part of the iGaming industry. They are licensed, certified, and devoted to creating a perfect "one-touch" gaming experience, with the least amount of physical interactivity. From this article, you will learn everything about OneTouch's games, services, partnerships, and everything in between!
Their Games Are Ground-breaking

OneTouch offers 24 mobile online casino games. Even though this isn't considered to be a "huge" portfolio, both players and operators will discover that in this compact roster, there are slots, table games, and card games as well. We have taken a more detailed look at the mobile casino games made by OneTouch below.
The Slots Have Many Features
In addition to being graphically phenomenal, the slots of OneTouch offer numerous additional features that not only complete but enhance the gameplay they provide. Although there are only ten slot titles, they have unique visual themes, reel layouts, RTP percentages, and more. Take a look at some of the best mobile slots made by OneTouch below.
"Steam Vault"

This is a 3x3 reel layout slot with 27 fixed pay lines. Even with its relatively small layout size, this steampunk-style game offers a number of gameplay features, which include scattered free spins, and middle line sticky wilds! Steam Vault has an average RTP rate of 96.10%.

"Bubbles Bonanza"

This is a sea-themed 6x6 cascading symbols slot, which offers a lot of fun, and an increasing win multiplier after each cascade of winnings symbols. The slot has an average RTP of 97.42% and 12 fixed pay lines.

"Juicy 7"

This is another 3x3 slot with 27 fixed pay lines. Its "diamond feature" presents a high payout potential, while its "low-to-medium" volatility factor delivers stable gameplay. The RTP of Juicy 7 is 96.10%, and this has been determined after the game was tested in simulation over 100 million times!

"Wacky Wildlife"

This animal-themed slot has a unique 4x4 layout, with four horizontal pay lines. The expanding wilds will substitute all symbols, and if they are fully stacked throughout the reel layout, they will trigger the so-called "wacky respins". The slot will continue giving respins until a winning combination has been landed. The average RTP rate of Wacky Wildlife is calculated at 96.04%.

"Lucky Lion"

This is an incredibly colourful 5x3 slot with 20 pay lines. This Chinese-festival-styled game offers cascading symbols after a winning combination and a lot of free spins. If that weren't enough, players would also be able to benefit from a multi-tier bonus wheel that will grant even more extras. Lucky Lion's has an average RTP of 97.01%, and special symbols such as wilds, bonus, and free spins.
The Table and Special Games Are Exceptional
Twelve games in total make the mix of table and special games here. Instead of presenting the same genre in different styles, OneTouch has gone "all-out" and has introduced different types of games, altogether. This is why players will be able to experience titles like Sic Bo, Russian Poker, Classic Roulette, Baccarat, and quite a few others. You can check out some of the most popular "non-slot" games below.
"Wheel of Fortune"

Modelled after the popular USA television game show from the mid-seventies, this game allows players to place their wager in one of 52 bet spots. In addition to offering incredible design and animations, this game promises good odds and generous payouts. With an average RTP of 92.39%, Wheel of Fortune is considered to be a fan-favourite.

"Classic Roulette"

Adhering to the "European standard", this roulette game offers stunning animations and functionality. What is peculiar here is in the initial bet stage, players will have a full view of the layout itself. Once a spin is initiated, a simplified bet layout will appear on one side of the screen, while the stunning 3D roulette wheel will be brought into full, centred view.

"Andar Bahar"

This card game is considered to be one of the most popular ones in India. The game has two betting rounds. In the first one, a wager needs to be made on one of the presented side bets; afterwards, a middle card will be dealt, and the second betting round will begin. Here, players will need to bet on either "Andar" or "Bahar" (which is either the left or the right side). Cards are then drawn to both sides face-up until one of the pile's top card matches the rank of the middle one. When this happens, the points of both piles are calculated, and the one that has 20 or more points, wins. Despite the multi-betting rounds, Andar Bahar is an incredibly fast-paced card game.
The Licenses and Certificates of OneTouch
OneTouch is licensed and regulated by the Malta Gaming Authority under license number MGA/B2B/641/2018. Although they aren't considered to be a "corporation-sized" business, OneTouch has decided to enter the iGaming industry with the proper accreditation. Having an MGA license means that OneTouch has passed several stages of legalization procedures, and has proven that in addition to possessing all necessary marketing, financial, and business strategies, they are producing software that is adhering to the latest standards for safety and security. The games themselves, have a "Provably Fair RNG" algorithm that has been tested and certified according to the MGA quality standards.
Mobile Platform Support and Software Development Tools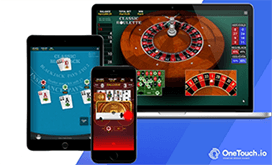 As a company that has dedicated itself in creating only the best online casino software for mobile devices, you can be sure that all of OneTouch's games will run flawlessly on devices with an iOS and Android operating systems. Although all of the games here are made to be compatible with all types of mobile operating systems, OneTouch has also optimized them for use with PC systems! Naturally, such high platform compatibility is achieved only through the use of one specific software development platform – HTML5.
Brief Company History and Future Business Plans
OneTouch is the software developer brand of the company "OneTouch Technology Limited", that is incorporated in the jurisdiction of the Isle of Man. The reason why OneTouch started its business in the first place is that they noticed that then-present online casino games made for mobile devices heavily lacked quality and variety. Shortly after the company's launch in 2016, they released their first game – Atlantic City Blackjack.
A year later, their popular Baccarat game was released, and in 2018 the company entered the iGaming industry with a full portfolio of mobile-oriented casino games. Due to the quality of its services and products, OneTouch has become increasingly popular in the European and Asian iGaming markets. The developer has shared their roadmap, stating that they are striving to introduce even more games, improve the playability experience on mobile phones even more, and include many free bet and tournament features to online casino operators.
Some of the Specific Game Features of OneTouch
Perhaps the biggest advancement of OneTouch in casino games, is that they have managed to create their titles to be "retina ready" optimized. "Retina-ready" is the name of the newest Apple trend in screen technology, which promises outstanding image quality. By combining these superior graphics with the developer's innovative game layout design, the player will receive a product that would really "pop up".
Additional Information – Press Release and Contact Methods
Readers can always explore the company's official news page, where they often post their latest business achievements. Coincidentally, OneTouch doesn't appear to be very active in social media channels; however, they do have a LinkedIn account, where they provide additional information about their company. OneTouch does provide an email address for any additional inquiries.
How Does OneTouch Compare to Others in the Industry?
Due to the general lack of "mobile-exclusive" casino software developers in the iGaming industry, it is generally difficult to compare OneTouch to anyone in particular. The quality of OneTouch's games rivals that of non-mobile oriented developers who have many years of experience in the business. OneTouch might be in an initial "business evolution" stage, but it already has something to offer that companies in the iGaming industry want.
Business Relations with Other Casinos and Companies
Currently, there are more than 50 online casinos that feature the games of OneTouch! The reasons for this are the fact that OneTouch became a business partner with the distribution company EveryMatrix, in a deal that guaranteed them the distribution of their software through EveryMatrix's game aggregation network.
In Conclusion – the Developer Is Becoming Even Better
OneTouch not only introduced an elevated online experience for exclusively mobile users but has also helped many casino operators to unlock the potential revenue they were missing out on. The best new casinos online realize the importance of having games that are exclusively made for tablets and smartphones, and this is why they "line up" for a chance to work with OneTouch. We are looking forward to seeing what new mobile online casino games this company will come up with!