An iGaming Developer with a Lot to Offer – The Asia Live Tech Review
When Asia Live Tech (ALT) entered the iGaming scene in 2011, they weren't expecting to be considered the first software developing company in Asia that offered cryptocurrency support for their products and services. Years later, ALT had established itself as one of the best developers of online casino technologies in Cambodia, expanding their portfolio to also Bingo, Keno, and Sportsbook services. Today, however, we are going to learn everything there is to know about ALT's live dealer services and RNG casino games!
The Games - The Title Variety of Asia Live Tech
When it comes to casino gaming software, Asia Live Tech is known for two things – its slots, and its live dealer games. The company is best known for its multitude of online live casino games; however, the developer also offers a number of RNG titles, namely slots. In the following paragraphs, we will explore the gaming genres, along with their special features.
The Slots Are Visually Different
Currently, there are 42 slots in total offered by Asia Live Tech. Although there is a decent variety of visual themes, all slots are identical, if we are to judge by their functionality! Perhaps, one drawback of this particular section of the gaming portfolio is the general lack of gameplay variety – all of the slots are played with a standard 5x3 reel layout. Regardless of the somewhat uniform symbol pattern, the slots are original, albeit their themes might remind people of popular franchises. We have taken a look at some of the most notable examples of ALT; you can check them out below.
"Cock Fighting"

Shaped after the fabled "rooster fights", this 5x3 slots takes the player straight to the arena. It has 30 adjustable pay lines, and four different jackpot types – mini, minor, major, and grand! When the game itself is opened, a prompt will appear asking if the player would like to "commit" 1 cent for every spin made. Should the player agrees, the cent will be added to the jackpots; however, a player can opt-out of this feature if they don't want to spend the extra cent.

"Iron Baby"

Reminiscent of a popular character made by the company Marvel, Iron Baby has a 5x3 reel pattern and 30 win lines. The game features four type of special symbols – scatter, wilds, jackpot, and bonus. Naturally, scoring a winning combination from any of these symbols will result in a unique "slot feature effect" such as a scatter win, free spins, and jackpot wins.
We should note that the similarities in the slot section of ALT do not end with the same interface controls. For example, in all slots, landing a winning combination of scatter symbols will grant up to 15 free spins. Scatter wins will be multiplied at the same rate as well. The same four types of jackpots will be present in all games, and a successful bonus symbol combo will result in the collection of a bonus prize that will be identical to the prizes in all other slots. Although some visual themes look significantly better than others, all slot titles are basically the same game, with a different "skin" on. With that being said, you can be sure that the RTP rate is the same as well.
The Live Games - Superior Variety
The live casino games made by Asia Live Tech come in the following genres – Baccarat, Roulette, Sic Bo, and Dragon Tiger. There are also two additional live dealer game types, which are native to the Asian iGaming markets – "Xoc Dia" and "Fan-Tan".
Asia Live Tech has two streaming studios, which stream different games at all times. For example – Studio One will handle Baccarat, Sic Bo, and Roulette, while Studio Two will stream Dragon Tiger, Xoc Dia, and Fan-Tan. Currently, there are approximately 18 tables hosted by the lobby of ALT, which can be experienced individually, or up to three different games at the same time, through the "multi-table" section. We have described the most notable genres and gaming examples in the paragraphs below.
Baccarat – The Most Popular Live Dealer Genre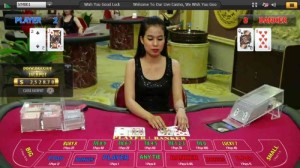 It's no secret that Asian players adore Baccarat, which explains why there are so many variants of the game present within ALT's live lobby. People with access to ALT's games can choose between variants such as Classic, Super 6, Squeeze, and Insurance. The baccarat tables here stand out from all others by featuring 16 bets in total (three main bets, and 13 side bets). In addition to the regular tables, ALT's live lobby also has a dedicated VIP table with better wagering limits.
The Roulette Games Adhere to European Standards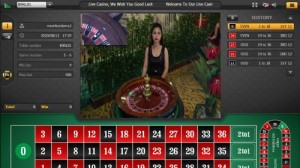 There are two roulette tables that cater to the needs of players here. After careful examination, our experts concluded that they don't deviate from the standard ( European) version of the game, with the exception of the currency. Apparently, all bets and transactions are being (by default) processed in "Chinese Yuan" (RMB).
Xoc Dia and Fan-Tan – Native Live Casino Games
Xoc Dia is a classic game of chance that originates from Vietnam. The objective of the player here is to make a correct prediction on what combination of coloured tokens will come out once they are shuffled. The two main bets here are "even" and "odd", which have payout odds of 1:0.97. On the other hand, if a player correctly guesses that all of the tokens will land on the same colour, the payout will be 1:9.5.
Fan-Tan is an ancient game of guessing that originated from China in the late 16th century. In order to play, people must wager on one of the "four corners", which are numbered from one to four. Once the bets are made, the dealer then shuffles a transparent lid filled with white beads or tokens.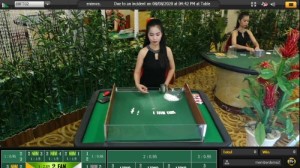 After the shuffle is done, the dealer takes the lid off and places a non-transparent metal cup on a part of the token pile, separating some of them. Those are then counted and separated.
All of the beads are spread individually into groups of four beads per group. The final number of beads that remain will be either one, two, three, or four. A correct prediction on any of those numbers will provide a payout of 1:2.85.
Mobile Platform Functionality and Additional Platform Support
It was a bit peculiar to learn that the live dealer lobby of Asia Live Tech has been developed on the software developing platform Flash. The same statement applies to all of the RNG products intended for use via a browser on PC. A small drawback here, is that there is only one way to be capable of exploring the games of this developer through a mobile device, and it is to download the officially developed app of Asia Live Tech. Unfortunately, this app comes only for Android-based devices, which leaves iOS players without away to play. So far the best way to run the company's games is through a browser that runs on a Windows-based PC.
Some Company History and Future Business Plans
Based in Svay Rieng, Cambodia, ALT operates with the help of more than 500 employees. The earliest evidence of this developers website appearing online was in 2012, a year later after the company had been started. Asian Live Tech began offering white label solution and online gambling software services right from the get-go. With every following year, the developer continued to create new products and services, and today has made itself known throughout the iGaming businesses in Asia for offering a complete portfolio of online gambling solutions such as – back office system services, live dealer services, lotteries & keno, slot games, sportsbook services and RNG online casino games.
Although the software products and solutions of ALT support a variety of cryptocurrency payment methods, the company will need to update their technological base if they expect to break new market ground in continents different from Asia. Today, even most developers in Asia are producing their online casino games in HTML5, which is accepted as the "modern standard" in iGaming development worldwide. The company continues to pursue its goal of improving its own services, so they can provide better iGaming products for the best new casinos online.

News Sections and Additional Company Info
Another strong point for this developer is its incredible social engagement – ALT regularly posts news and articles regarding their development in their official website, but that's not all. Embracing the social media culture, they also manage their company accounts in LinkedIn, Twitter, YouTube, Facebook, Instagram, and Reddit. The company doesn't miss a chance to post recent news updates or blog posts on their main social media pages; in fact, ALT "tweets" daily!
How This Developer Compares to Others in the Industry
When compared to industry leaders such as Evolution Gaming, Playtech, or NetEnt, Asia Live Tech can be considered somewhat average. On the other hand, ALT more than redeems itself with the availability of other iGaming products it offers. As the "first cryptocurrency gambling software developer in Asia", ALT definitely stands out among companies of the same demographic. With the percentage ratio of "quantity-to-quality" leaning a bit more towards the former feature, Asia Live Tech's strong characteristics come from the company's complete portfolio of casino platform management solutions.
Asia Live Tech Partnerships with Other iGaming Brands
While Asia Live Tech is known to provide its products to many online casino brands in Asia, there is little to no news about them. Currently, the only intel we have regarding ALT's business partners, is their deal with Softbroke – a European company that has been signed as a partner and exclusive reseller of Asia Live Tech for the Scandinavian market. Although ALT states that it had already started its "global expansion" journey, they seem to be more focused on acquiring more business partnerships from companies located in India and mainland China. Although they are yet to make a more serious move on the European iGaming scene, ALT continues to look for potential clients and business partner outside of Asia.
Breaking Ground in Other Countries – Asia Live Tech Expansion
Having the word "live" in the company name of a gambling software developer would definitely implement that there is something special regarding that particular topic; however, this isn't much the case here. ALT' primary trait is their wide support of cryptocurrency solutions and their integration within a variety of platforms. By evaluating the overall business of Asia Live Tech, we found out that they are indeed active on the Asian iGaming market, but are too far away from penetrating any other demographics. On the other hand, ALT consider themselves as being serious about their own development, which might surprise us in the future.