The Products and Services of Gaming1 Software Developer - the Full Review
Gaming1 is a software developing company that was founded in 2011 in Belgium. While the company is highly invested in creating online casino games for the iGaming industry, they also provide complete casino suite that includes bonus management and loyalty program management tools, game customisation, and even Sportsbetting platform solutions. This developer is licensed, awarded, experienced, and seemingly more than capable of exceeding the expectations of its clients. In this review, we will take an extensive look at Gaming1's product portfolio, and also list some of the most interesting facts about the company itself.
The Games Are Many and Quite Different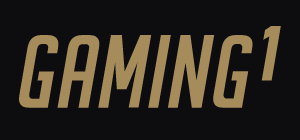 When creating this review, we analysed the gaming portfolio of Gaming1 and counted precisely 120 titles. There are several slot types, a good variety of dice games, and a decent quantity of table and speciality titles. What should be mentioned, is that all of the games here feature original designs and superb high definition art and graphics - which is why the title names themselves, along with the visual themes are protected by a "registered trademark" symbol.
A Good Variety of Slots
Under the "type" menu of slots, Gaming1 has listed three distinctive types - Video Slot, 3 Reel Slot and Spanish Slot. Regardless of their variation, they can come in either classic, cascading, or streak reel mechanic. While the majority of slots do come in a 5x3 layout, they have unique control interfaces, as well as a number of innovative bonus features. We have explored some of the most impressive slot titles of Gaming1 below - check them out.
"Karak Forge"

As the newest addition to Gaming1's slot portfolio, this title has a 5x3 reel layout, 20 pay lines, and an RTP of 96.33%. Although it isn't mentioned anywhere, the overall design of the game along with a few of the "card mechanics" are clearly inspired by the popular game "Hearthstone" created by the software development giant Blizzard Entertainment.

Karak Forge supports more than 15 languages, has a betting range of €0.1 - €100, win multipliers, win upgrades, free spins, big symbol stacks, and more. The interesting factor here is that by playing the slot, people will gather special "cards" which contain the different bonus features, and then combine them into a strategy of their own.

"Horus Temple"

This Egyptian-themed slot has a 5x4 reel layout, an RTP of 95.84%, and 50 pay lines. The extra features here include bonus symbol collection, freezing wilds, "epic" free spins, and a bonus game. One of the most unique features of Horus Temple is that it is a "streak slot", which means that once a spin has produced a winning combination, it will lock it in place, while the other reels spin again. If a better combination is produced, it will lock in place again, and re-spin once more - if no winnings are produced, then the reels will be reset. This title also has the "super games" feature which can grant a player a massive jackpot!

"Luck Ness: The Dice"

Modeled after the legend of "Loch Ness", this sea monster slot has a 5x3 layout, 10 pay lines, and an RTP of 95.59%. The betting range here is €0.2 - €25 per spin, and the volatility factor - medium. Although this slot doesn't have as many bonus features as others in this list, Luck Ness stands out with a special wild feature. If during free spins a player collects the required special symbols, many random wilds will appear scattered throughout the five reels and granting considerable wins.
There Are Quite a Few Dice and Table Games
There are 12 roulette titles overall, some of which include variants such as European Roulette, Vertical Roulette, SteamPunk Roulette, Roulette Deal or No Deal, and others. Gaming1 offers 4 Multihand Blackjack variants that can be played with either three or seven hands at the same time. On the other hand, the most popular genre after the slots here seems to be the "dice" games. With 24 different variants, these dice games are a bit like scratch cards in nature - once the player has matched three identical dice, they will claim a reward the size of which will be determined by the dice type.
Banca Francesa Is a Rare Speciality Game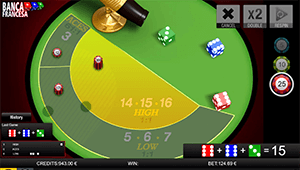 One of the two speciality titles (the other is classic baccarat) Banca Francesa (also known as "French Bank") is a dice game that is somewhat similar to baccarat; however, it is played with dice. The available betting options are three, just like the number of dice used in the game itself. Players will be able to place either a "Large", "Small", or "Aces" bet. "Large" bets are won when the combination of the three dice is either 14,15, or 16. When a dice combo produces a 5, 6, or a 7, those who have wagered on "small" will win.
Aces, on the other hand, is the bet where people wager on the outcome of all dice producing a cumulative number of 3 (three ones). While the small and large bets provide a payout of 1 to 1, successful "aces" wager, pays 63 to 1. Banca Francesa is an exceptionally rare game to be made by software developers; however, since Gaming1 is quite popular on the Spanish market, the title's presence makes sense.
Licensed, Certified, and Award-Nominated
Gaming1 is licensed and regulated by the Malta Gaming Authority. Recently, the company was also granted the "ISO 27001" certificate, which shows the brand's compliance and adherence to the latest industry-established standards regarding the security of information. Gaming1 has been officially mentioned in the iGaming industry, which becomes evident from the number of award nominations it has.
Back in 2015, EGR B2B nominated the developer for "Software Rising Star of the Year". In 2017 and 2018 EGR also nominated Gaming1 for the following categories - "Best Omni-Channel Solution", and "Platform of the Year". Again, in 2018, the SBC Awards nominated Gaming1 in two categories - "Game Developer of the Year" and "Best Virtual Sports/ Game Innovation".
Gaming1 Mobile Platform Functionality and Development Technology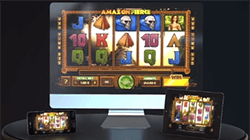 Every game of this provider's portfolio is marked with the HTML5 seal. What this means is that all slots, table, and speciality titles are fully compatible with smartphones and tablets that run on the iOS and Android operating systems. The use of HTML technology allows Gaming1's titles to be properly optimised for use with any commercially available browsers, although some apps might run them better than others. Our experts have concluded that this developer's games are best experienced with the use of Chrome.
Interesting Company Facts and Future Business Plans
Initially, Gaming1 started in Brussels, Belgium, with approximately 50 staff members. The developer, owned by the renowned Ardent Group, quickly progressed through the ranks, and today numbers more than 1,000 employees around the world. With their main headquarters today situated in Liege, Gaming1 has achieved the significant feat of becoming Belgium's "number 1 casino software provider". Shortly after the developer established its operations, they entered the Spanish market with noteworthy success. Today, Gaming1 is looking forward to expanding their business reach even further, while continuing to provide software innovation and variety in the industry.
Some of the Unique Game Features Created by This Developer
The Spin Quest™ is a special award-nominated feature, that is incorporated in some of Gaming1's slots. What it does, it allows players to gather a number of special "gems" within the slot; once they reach a specific number, the slot will release a guaranteed reward. The "Super Games" is another active feature in Gaming1's slots. After a player has successfully won x100 times their initial bet, they will be given access to the prize wheel which will contain either more super games, instant money prizes, or the "super game jackpot". The company continues to come up with innovative gaming features to this day.
Gaming1 News and Additional Information Portals
The official news section on the website of Gaming1 provides all recent information about the achievements of the company. Furthermore, the developer has social media accounts on Facebook, Twitter, LinkedIn, YouTube, and Instagram. YouTube, in particular, is the platform where Gaming1 is especially active, as they seem to always post full gameplay demos of their most recently released titles.
How Does This Developer Stand up to Others in the Industry?
Merely listing the facts that Gaming1 produces complete online casino and sportsbook solutions already puts it in the league of the biggest companies in the iGaming industry. While their market reach might not be as big as that of well-known leaders, we are confident that in only a few years Gaming1 will stand "shoulder to shoulder" with most iGaming giants, if not surpassing some of them altogether.
Partnerships with Casinos and Other Companies
Some of Gaming1's partners include huge brands such as Kindred, Unibet, Interwetten, Jokerbet, NYX Gaming, Playson, Novomatic, BetSoft, BetConstruct, Evolution Gaming, NetEnt, Pragmatic Play and many others. The reason Gaming1 is successful in finding the best business partners out there is not only because of the variety of their products and services, but also because of the impeccable quality of their work.
Gaming1 Is One of the Most Versatile Developers Out There
It comes as no surprise why the best new casinos online want to work with Gaming1. Their exceptional gaming software made by the company is presented with innovative features that break the "status quo" of classic casino genres and provide a unique gameplay experience every time. Although the company is yet to receive its first iGaming award, we believe it is only a matter of time; after all, Gaming1 continues to impress both players and critics to this day!