NOVOMATIC Software Review – Building the iGaming Industry One Partnership at a Time
Today, NOVOMATIC is providing casino-related products and services in more than 70 countries, but it all started in 1980 when the company was established. With the help of its many subsidiaries and partners, this software developing business has grown to be one of the most recognised companies in the iGaming world, and today it continues to remain in one of its top positions. In the following paragraphs, we will fully explore the portfolio of NOVOMATIC, and analyse the online casino games it offers along with all other aspects that make the business a strong competitor on the market.
The Company Offers Many Games Through Its Aggregation Platform "NOVO LINE"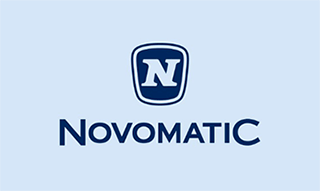 In the gaming portfolio of NOVOMATICs website, you will find more than 400 games; however, not all of them are created by the company, but by its subsidiaries Greentube and Eurocoin Interactive. Currently, NOVOMATIC has 275 games that are spread over the following genres – slots, arcade, video poker, and others. We should mention that the company has its own game aggregation system (NOVO LINE), which allows the developer to distribute its games much better across online platforms and land-based casinos. We have taken the liberty of analysing the most notable NOVOMATIC games and explaining their most famous highlights.
Slots Make up Most of the Portfolio
The fact that NOVOMATIC offers more slots than anything else isn't so surprising; however, it is their incredible quality that makes operators everywhere want to add this developer's roster to their own. The titles here vary in both features and design, but one of the most impressive facts about the slots of NOVOMATIC is that they are styled after original and branded franchises! Below, you can see the most famous slots produced by this company.
"Book of Ra 10 Deluxe"

This is not only the most famous game in the "Book of Ra" series of slots but the most recognised title of NOVOMATIC. It features dual playing fields, one that has a 4x5 reel layout, and another with a 12x5. Both reel sets are activated at the same time when a player initiates a spin and will calculate a win based on 100 lines (in total). The unique features in this slot are scatters, wilds, stacked symbols, transferring wilds, expanding symbols and free spins.

"Tales of Darkness Full Moon"

This game is another entry from the "Tales of Darkness" series of slots, and it offers its players a 4x5 reel layout, and 40 win lines. This dark fantasy-themed slot has scatter and wild symbols, but also implements key features such as re-spins and free spins that trigger additional wild symbols.

"From Dusk till Dawn"

Based on one of the best movies of director Robert Rodriguez, this slot is a 4x5 reel layout game with 50 win lines. It has several distinctive features which include a mini-game wild symbols, bonus twister wheel, free spins, a jackpot, wilds, and scatter symbols.

"Joker 2000"

This classic-looking slot has a 3x3 reel layout and five pay lines. While this game doesn't have as many features as the others in our list, players will still be able to benefit from extras such as "mystery winds", and "super game". The appeal of Joker 2000 lies in its simplicity and nostalgic design, which looks almost identical to the most common slot machines found in brick and mortar casinos.

"Sizzling Hot Quattro"

This isn't your regular fruit-themed slot! Sizzling Hot Quattro has not one, but four separate reel sets; each of them, features a 3x5 reel layout. There are 20 pay lines (five per each reel set) and the winning condition for any of them, is to match five identical symbols. Due to the gameplay design of this slot, there aren't many additional features; however, the game does have "scatter awards" and "double-up" feature which allows you to risk your most recent win for the chance of doubling it.
No Table Games – But Many Other Genres Are Available
Players will discover that there is only one video poker game called "American Poker II", but that's not all. NOVOMATIC seems to favour bingo quite a lot because it has approximately 14 titles! What is interesting about them, is that while there are a few original bingo designs, a good portion of the titles has been modelled after NOVOMATICs original slots – as it the case with "Book of Ra" and "Lucky Lady". Last but not least in the "other games" category, is a single Lotto game called "Star Lotto".

NOVOMATIC Is Fully Licensed in Many Countries
The first license that NOVOMATIC gained came from Ontario, Canada, in 1995. In the following years, NOVOMATIC was awarded a "manufacturer and supplier license" for Colorado, USA. Additional legal recognition also came from the administrative authorities of South Africa, Switzerland, the United Kingdom, Peru, Florida, Spain, Italy and many others.
Every time NOVOMATIC acquires or establishes a company presence in any country, they immediately set in motion all the necessary procedures to gain the required legal status for the production and distribution of gambling-related products and services. Although not explicitly stated by the company, it becomes highly evident that both the software and hardware products of NOVOMATIC have undergone numerous audits and technical testing procedures to make sure that they adhere to the latest industry standards for safety and quality.
The Use of Specific Technology Limits Mobile Compatibility
A good portion of NOVOMATICs gaming software is compatible with tablets and smartphones running on iOS and Android, due to the developer's use of the HTML5 software developing platform. On the other hand, quite a few games aren't supported by mobile devices, and will run only on desktop computers! This is because NOVOMATIC is one of the many companies out there that also utilise Flash as a different development platform. So far, there aren't any news if NOVOMATIC is planning on optimising those games that aren't available for mobile use.
This Company Features a Rich History
The website itself contains a detailed map of milestones that NOVOMATIC has achieved since its conception in 1980. The company seeks not to "become" Europe's biggest provider of high-tech gaming technology, but to continue being one – for quite some time now NOVOMATIC has been on the forefront of the iGaming industry, and it doesn't seem like they will become second best any time soon. Their current mission is to continue expanding their market presence through the acquisition of additional companies in other countries and continue the development of more casino games.
NOVOMATICs News Section Is One of the Biggest Ones Online
Under the section "Press", readers will find categories such as Press Releases, Events, Publications, NOVOMATIC Magazine and Media Centre. This abundance of information regarding the company isn't only meant for regular players, but also for business partners and potential clients who wish to learn more about the business achievements of the company itself, so they can easily calculate if a potential partnership will fulfil their requirements.
NOVOMATIC Definitely Stands out among the Rest in the Business
NOVOMATIC is not a regular software developing company, but an industry conglomerate with more than 30,000 employees worldwide. The market reach and size of this developer are beyond something that small and medium-sized casino game developers can compare to, which makes NOVOMATIC stand out quite easily among the majority of its competitors.
Partnerships, and Strategic Business Acquisitions
NOVOMATIC found it very important to add capable software developing teams to its family of companies, and this is how their business friendship with Greentube and Eurocoin Interactive began. As smaller game developers, both Greentube and Eurocoin were eager to join NOVOMATICs family of casinos. Naturally, the gaming portfolios of both companies were added to the collection of their parent company, and If you've wondered why NOVOMATIC lists Greentube's and Eurocoin's games as its own, it's because it owns them. The list of clients and partners of NOVOMATIC include Casumo, YakoCasino, PlayOJO Casino, William Hill, NetBet, Slots Million and many others.
Awarded for Supreme Business Practices
When it comes to software developers and awards, people usually think about something along the lines of "the best slots", but NOVOMATIC surprises everyone with its eight awards that are all in the field of business excellence. The following awards held by NOVOMATIC, are: Leading Companies Austria 2015, Kununu OPEN Company Seal, Quality Seal of the Austrian Network for Workplace Health Promotion, Best Recruiters in 2018/2019, Work and Family Audit Seal, Leading Employers in Austria for 2019, and the Best Recruiters of Austria in 2019/2020.

In Conclusion – A Good Developer but a Greater Supplier
From the "corporate look" website to the constant business talk, every visitor of NOVOMATICs website will understand that although this company offers a decent number of online casino games, the company has taken its role as a supplier much more seriously than that of a "developer". Nevertheless, the games offered to operators are still interesting and feature solid gameplay, which makes all NOVOMATIC titles a valuable addition to any casino that wishes to expand its roster.