World-Famous Casino Software Maker – the High 5 Games Software Review
While High 5 Games (also known as H5G) doesn't seem to be appearing on the mainstream of the iGaming industry, this company has gathered a lot of professional experience since its establishment in 1995. Today, the business influence of this developer spans over 50 countries across six continents. H5G has offices in USA and Europe – making them one of the most influential online casino games developers in the industry. The company is "world-renowned" for having a swiftly expanding games portfolio, which is made accessible in more than 150 countries. In this review, we will find everything people want to know about High 5 Games as a company, as well as the games it creates.
The Developer Promises Colossal Quantity and Impressive Quality
We should mention that High 5 themselves advertise that they have a gaming portfolio with over 450 titles, which is more than enough to completely power the platform of an online casino! On the other hand, when we performed a manual inspection, we discovered that the official number of RMG (real-money gaming) games made available for online gambling operators, is currently 148, which means that all other titles come as a courtesy from H5G's business partners. We do say "currently" because the developer has also posted adverts about its new upcoming games. We should mention that High 5 Games produces only slots.
The Slots Are Many and Full of Features
One of the greatest facts about the gaming list of High 5, is that they not only display the full portfolio of titles, but also go as far as create functions that allow website visitors to filter the slots by themes, platforms, and features. Another interesting fact is that although there is an abundance of titles here, all of them will be original with the exception of a single licensed franchise brand – "Miss Universe"! This is as admirable, as the quantity of unique game features, which is over 50! The themes are no-less impressive as well, the number of which is 15. Below, you will see a more detailed description of some of the most popular slots made by High 5 Gaming.
"Mystery Train"

This is a 4x5 "period-piece" slot that comes with scatter symbols and free spins. Additionally, there are also wild symbols and a "reveal-a-wheel" feature that contains win multipliers of up to x100. This game is said to have an RTP rating of 94.90%, which is considered "reasonable". This game is an upcoming title and is available in demo version online!

"Miss Universe"

This is a beauty contest slot, modelled after the most prestigious beauty competition in the world, of the same name. Just like the previously mentioned game, this slot has a 4x5 reel layout, with 40 adjustable pay lines. It has free spins, wild bonuses, "crowning moments" bonuses, and other interesting features!

"Captain Payback 2"

The slot game is a part of the famous "Captain Payback" series, the second part of the instalment has an interesting reel layout. While the reels are six in number, the first and last have three symbols, while the middle four, have four! The game has 75 pay lines, a bonus feature triggered by wild symbols, a "scatter bucks" feature, and free spins (up to 15)!

"Cat Prince"

Carrying an Egyptian-theme, the Cat Prince is a slot that offers 40 pay lines that cover a reel layout of 3x5. Among the many features, we discovered "super stacks", wild symbols, free games, and winning multipliers that can make lucky players quite rich.

"Caught in the Widow's Web"

This is a "murder mystery" style slot with a classic 3x5 layout. It has a double feature, an activated scatter, free games, wild symbol, and 60 pay lines. This game is one of the newest ones that are about to be introduced in the game aggregation platform of High 5, but it has amassed quite the fan following from its demo mode!

"Beer Barrel Bash"

This "Oktoberfest" themed slot is one of the few that feature an incredible quantity of unique features. Players here can enjoy double and triple split symbols, lasting loot, locking wilds, split symbols. There are 80 bet ways here, that span over a 4x5 reel layout; additionally, the game has an RTP of 96.5%, scatter symbols and free games.
One of the Best Licensed Developers in the iGaming Industry
High 5 Gaming is a company that wants its clients to know that its software is legal and covering all necessary standards for quality; this is why, the company is licensed by the United Kingdom Gambling Commission, the Gibraltar Regulatory Authority, the New Jersey Division of Gaming Enforcement, the Malta Gaming Authority (license: MGA/B2B/545/2018), the Danish Gambling Authority, the Alderney Gambling Control Commission, and the Gambling Control Administrations of Sweden, Denmark, Latvia, Croatia, Estonia, and the Isle of Man!
Furthermore, the company also lists the jurisdictions that they await their upcoming licenses from. Currently, the company is awaiting license confirmation from the gambling administrations of Romania, Portugal, and Pennsylvania. All of the company's games, platforms and services have been audited and tested for fairness and compliance with regulatory standards.
Development Technology and Compatibility with Mobile Platforms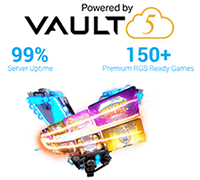 It is important to note that because High 5 Games has been producing titles for a long time, it is understandable why some of its software is made via the development platform FLASH. All modern titles are made in HTML5, but regardless of which games have been made on what platform, High 5 has reworked its older titles in HTML5, so all of their games are compatible with Android and iOS systems. In fact, the company has created an HTML5 game aggregation system called "High 5 VAULT", where this developer makes its gaming software available to its customers, and fully playable on any computer, smartphone or tablet.
A Company with Rich History
After it was launched 25 years ago, the company managed to reach market status in 50 countries by the year 2005. High 5 Games produced its 200th game in 2009, and from then onward, things just kept getting better and better for the company. In the following years, High 5 Gaming started providing its White Label Casino technology to many brands, established its own branded casinos, and has made some successful business partnerships. Today this developer continues to expand both its list of online casino games and customers, but also its market presence worldwide!
The Specific and Unique Game Features of High 5's Games
Some of the numerous slot features you can experience by playing High 5 games, are: coin cascade, power bet, lasting loot, jackpot bonus, clusterbucks, doubled wild wins, bonus wheel, capture feature, symbol fusion, "find your fortune bonus" and so many others. Naturally, some of those features will be more present than others, and in this case, the most mechanics featured in the games, are the Stacked Wilds, Super Stacks, Split Symbols, Tumbling Reels, Connected Lines, and Free Spins. Although there is not a single slot that contains all 60 features in itself, some of those games contain quite a lot of them!

The News & Events Section Has All the Info You Need
Do you wish to know when are the newest games by High 5 coming out? Are you interested in following the company to an iGaming event? If something is happening with High 5 Games, you will find it all in the news section on their website. The company provides press release for company news, product news and events, and updates its sections regularly.
One of the best things about the news section of High 5, is that it has a filtering function allowing website visitors to choose articles from a specific year. High 5 has posted its news regularly since 2012! This developer also has accounts on Facebook, Twitter, YouTube and LinkedIn – so if you're looking for the most recent news, you can start from H5G's social media channels.
How Does H5G Compare to Other Developers in the Industry?
To start it off, the market presence and list of clients and partners of H5G, is colossal, even by industry standards. The fact that High 5 are big enough to offer their own White Label Casino solutions means that they are more than equipped to provide everything from a single slot title to a full casino platform management system. They make and manage their own online casinos to this day! High 5 Casino, Shake the Sky, High 5 Vegas, Electri5 Casino – these are all online gambling establishments that are owned by H5G! If that doesn't make them stand out among the competition, then nothing else will!
An Incredibly Large Circle of Clients and Partners
Best High 5 Games Casinos for 2023

Betfred

Read Review

5

50 Free Spins Bonus*

Claim
* 18+; T&C's apply, click CLAIM for details
Currently, High 5 Games lists the following companies as its platform partners: SG Digital, Relax Gaming, AGS, Pariplay and ORYX Gaming. Note that those brands are not only software developers themselves, but large companies that also provide a slew of casino solutions. The fact that H5G has them as its associates, speaks volumes about the company's ability to provide numerous on land and online casino solutions! High 5's games are featured not only in its own casinos, but in popular brands such as Betfred, Slots Million, PokerStars Casino, bet365, BetVictor, NetBet and more than 200 other establishments!
In Conclusion – a True Leader in Casino Software Development and Provision
Over the years, High 5 Games has managed to achieve a successful business status like no other. Today this developer and supplier continues to create new partnerships while churning out even more slots. The few, somewhat insignificant drawbacks here, are that apart from the upcoming titles listed on the website, visitors can't try out the games for free – although H5G is partnered with a reviewing agency that makes this possible. The other concern we have is the fact that they don't deviate from their primary gaming genre, which only leaves us to wonder what would an H5G table game look like. Who knows, maybe in the future they will surprise everyone!