Innovative Online Casino Gaming Solutions – the Complete Espresso Games Review
Espresso Games is an online casino software developer that traces its roots back to 2002. Renowned for the quality of its games and its innovative features, Espresso is a company that is quite popular in the iGaming industry. The developer is engaged in a wide number of successful business partnerships, which explains why all the best new casinos online are looking forward to working with Espresso. In this review, you will find out everything about Espresso's professional achievements, as well as what makes their gaming software truly unique!
The Games Are Various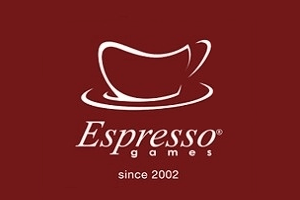 This "coffee-named" developer currently offers 75 online casino games, which are divided among genres such as Slots, Table Games and Video Poker. All games feature original themes and HD graphics, although the visual styles of some games might look a bit more "classic". The reason for this is because, over the years, the developer has managed to re-work and modernise its older games, essentially making them compatible with new casino platform standards, and re-introducing them in their portfolio as a kind of a "legacy collection". The following paragraphs contain an in-depth analysis of the best examples in the portfolio of Espresso Games!
The Slot Titles Are Feature Filled
Currently, Espresso Games offers 48 video slots in their portfolio. In addition to their original design and themes, they feature a variety of extra spins, wide betting ranges, originally developed jackpot features and more. We have taken the best examples from Espresso's slot portfolio and have analysed them further below.
"The Midnight Jackpot"

This is a clockwork-themed 5x3 reel layout slot that has wilds, scatters, and a whole lot of free spins (can reach up to 100). What makes Midnight Jackpot an exceptional slot, is that it has a "quest" that needs to be completed. The prize at the end of that quest is a progressive jackpot reward. Once won, the jackpot can be reset, and players will be able to compete for it again! The Midnight Jackpot has an RTP rate of 97.94% and 18 fixed pay lines.

"Treasure Island"

Probably the best cartoon-pirate-styled slot in the iGaming industry, Treasure Island is much more than a simple 5x3 layout slot. The game offers 18 paylines, scatter symbols, two types of featured bonuses, wild symbols, free spins, and Espresso's very own slot innovative creation called "Reelpot™". The bonuses of Treasure Island are many, and its RTP percentage is 94.38%.

"Bubble Rama"

A slot that pays all ways, this unique drop-down 5x5 reel slot layout has a colourful design and something much more. The game sports many free spins, re-spins, and an impressive multi bonus with multiplied wins. Bubble Rama has a cute froggy animal character that interacts with the controls of the slot itself; furthermore, the player can also choose between one of three styles of animation for the spinning of the game's reels.

"Fortune Trace Deluxe"

This is another special slot made by Espresso Games. It not only features several types of wilds; it has an unlockable sixth reel that offers a complete 6x3 layout. What is unique about this classic styled slot is not only the fact that it offers 1,431 ways to win but also Espresso's very own innovative feature called "Racepot™". Fortune Trace not only has an RTP rate of 97.12% but also has a progressive jackpot system connected with other slot games that operate with the "Racepot™" feature.

"Nebula"

Offering 1344 winning combinations, this "outer space-styled" slot has a 5x4 reel layout and a wonderful variety of game features. Some of those include wilds, free spins, and the so-called "Nebula Bonus". A player might be lucky enough to score one of the three "nebula bonuses". The first one gives 14 free spins with a x2 multiplier; the second, 15 free spins with a guaranteed extra win and the last bonus gives four bonus spins with sticky wilds! Due to the bonuses, the RTP of the game will slightly vary, but it won't fall below 95.25%.
Table Games – the Roulette and Poker Variants
There are 15 table games in total – seven of the card variety and eight roulette types. Among the card titles, the main ones are Blackjack, Texas Hold'em and Baccarat. Some of the most popular roulette variants here, are 12 Numbers, American and Poker Roulette. You can learn more about the most popular Espresso table games below.
"Blackjack Six Card Charlie"

This variant is also classified as "multi-hand", as it allows playing three different hands at the same time. The "Six Card Charlie" rule, states that if a player manages to reach six cards on their hand without busting, they will automatically win. The minimum and maximum allowed bets here are 5 and 250 units, respectively. Regardless of those two additional rules, this version of the game is pretty much the classic type of Blackjack.

"Texas Hold'em"

In this casino version of the popular multiplayer card game, the player goes directly versus the dealer. After the initial ante bet has been made, the dealer will give two cards to the player, and two to themselves, facedown. The player will be given a choice to either fold or call the initial flop. If the flop is "called", a money wager will be made automatically. After the flop has been revealed, the player will have the opportunity to check or bet for the "turn". The same choice will be given when the time comes for the "river" card to be drawn. What is special here is that the flop bet will always be twice the size of the initial ante.

"12 Number"

This is also known as "mini-roulette" in the industry. Besides the reduced number of pockets, this roulette version is pretty much a miniaturised version of the classic European Roulette. Players will have the opportunity of initiating a regular or a "quick spin", after placing their bets.

"Poker Roulette"

This interesting variant of the most popular casino table game, has switched the regular numbers for the symbols featured in a simple deck of cards. This variant features a selectable betting limit, and 20 pockets designated with the card symbols, which are the commonly known "face cards" and "10's". Among the new types of wagers a player will be able to make, is the "suit section". People will also be able to bet on an entire suit section or on individual suits. The classic role of the "zero" roulette symbol is replaced with a depiction of the "Joker" card.
We should mention that the roulette games come in two different categories – regular instant play, and common draw. The "common draw" refers to the presence of a special "round counter" that gives a short amount of time for players to bet. Once the seconds are close to running out, the table will accept "no more bets", and the ball will be rolled. Although "common draw" roulette games have a much slower play tempo, they are preferred by players who like to take their time.
Mobile and Additional Platform Support
The new gaming software of Espresso Games is fully playable on all types of modern mobile devices that run on either iOS or Android. EG is known to use the so-called "3s Module" (speedy setup solution) in order to quickly integrate its games into any type of platform. The company has stated before that it admits utilising Flash as their primary software development platform; however, with the invention of HTML5, they have managed to redo some of their older titles.
Company History, Business Roadmap and Mission
In order to reach its full potential Espresso Games had to go through an interesting stream of events – which began with the brand being bought by an Italian casino software developer that was called "Talenta Game Studios". This happened in 2015, and two years later, a larger business entity acquired both Espresso and Talenta. Since then, Espresso has not only managed to retain its brand identity but to excel in what they do and provide newer, better innovations in the online casino industry. The company's mission is not only to continue producing games of superior quality but to design them in a way that will have them offer something much more than a reel or wheel spins – perhaps this is why they have managed to introduce that many slot innovations in the iGaming industry.
Espresso Games' Unique Gaming Features
Espresso made its presence known not only by developing high-quality slots but also by creating and incorporating a number of important in-game features. The most known are the special jackpots. The first of them is called "Reelpot", and it is essentially a progressive win jackpot that is located at the bottom of each separate reel in a slot game. If a symbol from a winning combination is located above the treasure chest, it will be filled with a specific amount of money. When 100% of the points of a chest are filled, only that single reel is spun with "win" and "no-win" symbols. Bear in mind that other players will participate in the refilling and the winning of the chests themselves.
The other patented jackpot type is called "Racepot". In contrast to the previous jackpot type, this one is affected by all reels in a slot and can be claimed by the collection of special points. Both jackpot types can be tailored to act individually for a single player or be connected in the so-called "cross-game jackpot tournaments" where bets from different players will be able to replenish the jackpot every time it is won. The relatively small (but significant) amount of money gathered in those jackpots is easily replenishable, which is why players and casino operators like to incorporate it into their gaming rosters.
News About the Company and Contact Methods
In a bit of a paradoxical twist, the remarkable reputation of Espresso Games isn't fabricated with the use of many social media accounts. The only channel where readers can receive the most recent information about the company is located in Espresso's LinkedIn account. The best way to find out more is to contact the company directly; in fact, there is a chance that they might be close to your jurisdiction, because they have offices located in Italy, Colombia, Hong Kong, Spain, the United Kingdom, Malta and the United States of America!
How This Developer Compares to Others in the Industry
Not many online casino solutions can step up to the drive, success, and results achieved by Espresso Games. The company is highly renowned for its "technological tailoring" solutions, and this is why they will always be regarded as an "industry innovator". It comes to us as no surprise that all best new casinos online are looking forward to working with Espresso Games. It is nearly impossible for this developer's competitors to deny Espresso's quality of work!
Partnerships with Casinos and Other Companies
Although the information about the company is still somewhat limited, we managed to discover that Espresso has some of the best online business partners in the iGaming world. As a developer that works with both online operators and other developers, some of the names present in the business circle of this company are WeAreCasino, SoftGamings, Revolver Gaming, Woohoo Games, 1xBet, and many others.
In Conclusion – Espresso Is a Successful Mystery
There is no doubt that Espresso Games is a software developer that is highly renowned and capable in the iGaming industry while managing to keep away from the limelight and not attract additional unwanted attention. The truth is that Espresso means to do only two things – continue to evolve their business and create impressive online casino software. By the looks of it, they are doing both of those things quite well!