BF Games - an Expert Casino Slot Developer
In 2013, "Bee Fee Limited" established its online casino software development studio, called BF Games. Situated in London, UK, this software developing company has made and implemented quite a few innovations within the iGaming industry. Impeccably licensed and regulated, the games made by BF are considered to be some of the best ones out there, and today we will learn why - along with the many other interesting things about the company itself.
The BF Games Portfolio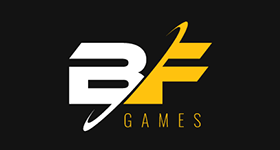 At the time of reviewing BF, we counted 55 online casino games in their portfolio. We should also mention that the developer self-defines itself as a "recognised publisher of video slots", which explains why BF Games doesn't offer titles from other genres. If we take into consideration the gaming quantity of the portfolio and cross-reference it to the number of years that BF has existed in the business, we can say that the developer produces approximately eight video slots per year!
All Slots Are Professionally Made
The first thing that made a positive impression when we opened up BF's gaming portfolio was the clean, vivid graphics of all slots titles. While all of them have original themes, we were especially surprised by the exceptionally smooth transitions and animations, in each slot. Putting appearances aside, the slots of BF Games are chock full of additional and bonus features that provide a solid gameplay experience. Below, we have selected and analysed the most popular slots made by BF Games.
"Ancient Secret"

Donning a classic Egyptian style, this 5x3 reel slot gives players a variety of features to benefit from. The first of the bunch is the wild symbol that will act as a substitute for all others, except for the scatter symbols. Scatters, on the other hand, will grant players a win multiplier, and if that wasn't enough, a player could win up to 12 free spins that will feature stacked wild symbols. Ancient Secret also has 20 fixed pay lines and a gamble feature.

"Alice in Wonderland"

This is a visual marvel with a 5x3 reel layout and 243 winning ways. The slot offers its players a gamble feature for their most recent win, along with wilds, and free spins with stacked wilds that are triggered by collecting stacked symbols. In this slot, winning combinations are counted from left to right.

"Aztec Adventure"

This is a 3x3 reel layout slot that has 27 winning ways. This "Aztec-themed" game features an intricate 3D design, making the gameplay experience even more immersive. The features of this slot include wild and scatter symbols, win multipliers, and free spins. Aztec Adventure has an RTP rate of 96.22% and also a gambling feature just like most slot titles of BF Games.

"Fibonacci"

This is perhaps the simplest video slot in BF's portfolio. It has a 3x3 layout and an RTP rate of 96.75%. The objective here is to land three cards on the central pay line! Although this video slot doesn't have any additional features, it is exactly that lack of complex conditions that makes it popular among players and operators alike.

"Magic Hunter"

A fantasy-themed video slot. This impressive-looking game sports a standard 5x3 reel layout and 20 fixed pay lines, with an RTP of 96.01%, and a gamble feature. Additional features include wilds, scatters, big symbols, free spins, and multipliers.
Company Licenses, Certificates and other Accreditations
BF Gaming is licensed and regulated by three main administrations – the United Kingdom Gambling Commission (license number: 48761), the Malta Gaming Authority and the National Gambling Office of Romania. The UKGC and the MGA licenses are said to be the most difficult ones to attain in the iGaming industry because the qualifying conditions are known to be quite stringent; however, by having them, BF Gaming proves to the industry that it conforms with the latest responsible business standards. The gaming software of BF is also regularly tested by independent technical testing facilities, that certify the credibility and fairness of each game.
Mobile Platform Support and the Use Of Development Software
As a developer who values software compatibility to the extreme, you can be sure that all of the slots produced by BF will run properly on mobile operating systems such as iOS and Android. The high level of optimisation and compatibility is made possible thanks to the development platform used in the creation of all of BF's games – HTML5. Not only it allows for mobile users to experience the casino games without worrying about their type of device, but also allows the incorporation of next-generation gameplay features.
We should say that it is normal for a game that has many graphic elements to demand a certain amount of hardware and software resources. We managed to discover that the best playing experience on either a mobile or desktop device can be achieved with the use of the Google Chrome browser. You should remember that while most Android devices are automatically optimised and updated on a regular basis, industry experts suggest that players should also keep the drivers of their computer graphics cards up to date if they want to experience smooth gameplay on their computers.
Additional Company Information and Mission Goals
BF Games is part of the renowned LV Group. Not only does this company create superb online casino slots, but they also have developed a number of other products such as a sports betting platform, an e-wallet service called "Paymenticon", and VLT slot manufacturing. With BF's headquarters located only two and a half kilometres away from the Buckingham Palace itself, you can be sure this is a development company that always strives for excellence, while properly showing off its superior competitiveness with others in the business.
Unique Game Features
The three most prominent features present in almost all of BF's slots are the "slam stop", "winnings gamble" and "graphics mode" functions. Slam stop refers to the ability to stop any reels from spinning by clicking on the spin button. The "gamble" might look a bit differently depending on the game, but it is essentially a mini-game that becomes available every time a player has scored a win. It can be in the form of guessing which card would be drawn (red or black), or trying to find out "where is the coin" between two covered cups.
All gamble features have a 50% chance of success. Last but not least is the "graphics mode" – an option that allows the user to switch between "high" and "low" graphics settings, in order to improve the playability of the game itself.
News About the Company and Business Contact Methods
Although the company does feature a news post section on its website, the frequency with which they release new content, is considered to be "satisfactory" at best. In fact, readers who wish to know the latest about BF's business achievements or newest game releases should visit the developer's social media accounts at LinkedIn and Twitter, with the latter platform being the one that is most utilised by the company's press release department. BF Games is a socially engaged business, and this is why they also manage their company profile channels on YouTube, Instagram, and Facebook!
How This Developer Compares to Others in the Industry
As a casino software developer that is part of the famous LV Group, it doesn't come as a surprise that BF Games has a lot more resources and development opportunities than many other companies in the business. Regardless of their economical ranking, BF Games has earned its place among the top developers in the iGaming industry by providing quality casino software!
Responsible Gaming and Care For the Players
The company is genuinely dedicated to responsible gambling, and this is why it provides its software only to people who are 18 years of age or older. BF Gaming recognises the fact that online gambling can lead to addiction, and this is why it has implemented a number of measures within their gaming software that will help with self-limitation, including "reality check" notifications for every separate game.
Business Partnerships With Other iGaming Brands and Companies
Partners include more than 80 well-known iGaming industry brands, which include online casinos, gaming software developers and aggregators, and of course – affiliates. Some of the most renowned partners of BF Games, are SoftGamings, BetConstruct, Spinomenal, ORYX Gaming, Pariplay, WAC, Megapari Casino, 1xSlots, Volt Casino, 1xBet, LVbet, and many others. Given the company profile of BF Games, we can say that they easily create successful partnerships, and judging by the overall selection of brands, we are positive that the developer "carefully handpicks" every single one of its business partners.
BF Continues to be Dedicated to Its Customers
With a steadily expanding portfolio and superior customer support services, BF is hailed to be one of the most preferred casino software developers among the best new casinos online. The developer's games are "fresh", offer innovative mechanics and features, and are also audited by industry-leading administrations. While we would have loved to see what BF Games' take would be on titles from other genres; perhaps, in the future, we will.